EUROPEAN EURO MILLONES LOTERIA COMMISION S.L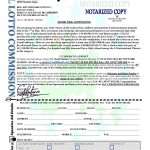 Google spotted this one as a scam. "Be careful with this message. Similar messages have been used to steal people's personal information", it advises.
Romano Nє 19 Planta 5
28960 Madrid, Spain.
REF: ESP MMCO/402-537/EU/12..
BATCH: 51225-0
PRIZE CLAIM TRACK No: 345634497
FILE NO: ESPHDS-547-K6-75.
ATTN : PRIME WINNER
We are pleased to inform you, of the release of the result of Euro millions international E-mail promotion program, held on the 7th of May, 2012, to promote and encourage international participation in our international high stake lottery. Your E-mail attached with the ticket serial number: 134-03650116-211 and Batch number: 51225-0 purchased by your representative at the cost of two Euros, consequently won the price in the 2nd category with the winning number: 04-18-32-40-46+ 06:07. We apologies for the late notification, it was delayed due to mix up of some E-mail addresses. However, you have been approved for a lump sum of 825,000.00 Euros (Eight hundred and twenty five thousand Euros) in cash credited to file security number: ESPHDS-547-K6-75. This is from a total cash prize of 11,550,000 Euros (Eleven million, five hundred and fifty thousand Euros Only) shared among the 14 International Winners in this category.
To begin your claim please contact, Dr. David Sanchez, Foreign Operations Manager of VITALICIO SEGURO NETWORK MADRID – SPAIN on a.zapata@rediffmail.com Tel: 011 34 632 439 344, Fax: 011 34 917 692 656 for the processing and remittance/delivery of your winning prize to you. Remember that all prize money must be claimed not later than 30th June 2012. Attached is the copy of the winning ticket and the original remains with your Agents for the prize processing
NOTE: In order to avoid unnecessary delays and complications, please remember to quote your Reference and Batch Number in every correspondence with your Agent. And remember you have to pay 10% of your wining fund to your claims agent after the fund gets to you. Further more, should there be any change of your Address, do inform your claim Agent as soon as possible. Find the attached Processing Form which you are required to fill and send back to your claims agent. FAX: 011 34 917 692 656. Congratulations once again from all Members of our department and thank you for being a part of our INT`L PROMOTION PROGRAMM.
SINCERELY
Afredo De La Paz