A Real Thing for the future
Most people will not believe it, assuming that it is a joke and that there is a punchline to come, but there was once a cable car at Bray Head in Co Wicklow.
Walking the promenade and part of the cliff path to Greystones on an early June evening, the concrete base from which the cables stretched sits mutely beside the car park used by walkers to the Head. Memories of the car seem not to be plentiful. Trips to Bray were not such a simple matter in the 1950s and 60s; south Co Dublin was rolling fields and small villages and and to take a train down from the city was a much more serious matter than hopping onto a southbound DART.
Even on the Internet, references to the cable car are few. One excellent photograph appears, not from a local newspaper or history, but from the Coca Cola Company.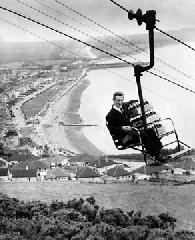 Dating from 1964, the photograph shows a delivery of Coca Cola being made to a cafe on the head; the view of the seafront has not changed much in 45 years.
Phil Mooney, the historian at Coca Cola, invited captions for the photograph in a competition around Saint Patrick's Day this year. The winning caption was inspired by thoughts of a lawsuit arising from the bottles falling from the chair. The sight of a chair lift carrying a man and dozens of bottles through the sky on an Irish coastline would have provoked much more colourful comment at the time.
Extraordinarily, one website that describes itself as your, "your unlimited travel guide to the world", asserts the cable car is still running:
To the south of Bray is Bray Head, rising steeply from the sea to a height of nearly 800ft/240m. A footpath known as the Great White Way runs from the south end of the Esplanade, passing a small ruined church (13th C), to the summit of the head (1.5 hours there and back). Halfway up, at the Eagle's Nest, is a cafe (reached in summer by a chair-lift). From the top there are fine views over the sea and inland.
But back to that redundant concrete base: it marked a confidence and hope in the future. As odd as it may seem in retrospect, someone had the enterprise and the energy to build something new and completely different and a corporation as notable as Coca Cola thought it something worth attention.
Ireland now needs similar enterprise, similar willingness to do something new and completely different. As we spiral downwards to an unemployment total of 500,000 people, we need people who will rebuild confidence, people prepared to believe in hope. We need ideas that attract people like the photographers from Coca Cola, so that in forty years time perhaps it, or some other corporation will feature pictures of things that were happening in 2009.