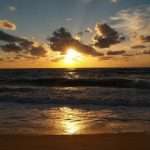 Being childish, the countdown begins: it is fifty days before the bags will be packed for the annual holidays. Low season rental on a house in south-west France. Flicking through old holiday pictures, there are many vivid memories.
Landes is one of those French departments that tends to be overshadowed by its more famous neighbours: to the north is the department of the Gironde and the great city of Bordeaux, to the south Pyrenees-Atlantique and the elegance of Biarritz. Landes lies contentedly between them, inland there are vast green forests, on the coast, huge beaches sweeping as far as the eye can see. If you want somewhere to sit quite alone watching huge Atlantic rollers crashing onto the shore as a fiery orange sun sinks below the western horizon, then Landes is a perfect place. Walk ten minutes from any of the beach car parks and there will be solitude.
In 1989 we stayed in a tiny place called Messanges.There wasn't much there then, and it remains a quiet and unspoilt spot; strangely, we went from 1989 until 2006 without going near the department, let alone Messanges.
Returning there after a seventeen year absence, the beach was as spectacular as ever, and, although cloudy, we got something of a sunset. There was a timelessness about the place – the sea and the sand have been there for millennia and will be there for millennia to come. There was a reassurance that the stuff of human history is trivial and insignificant in the face of overwhelming nature; that the most annoying and most enduring of politicians were no more than a momentary flash compared to the enduring years of the infinite grains of sand on the beach.
Memory does rewrite the script though. In my recall from that summer before the Communist world collapsed, the beach swept forever in both directions. Returning after the absence, it swept southwards until it hit the Pyrenees, which loomed up out of a misty horizon. Standing on the beach on an August evening, there was a temptation to say, 'I don't remember those last time we were here'. It was a ridiculous thought. Memory does that though, all that Freudian stuff, repressing the nasty bits – it irons out the bumpy bits, smoothes out the creases, repaints the landscape. Even edges as jagged as the dark Pyrenean mountains can be rounded off in our recounting of the past. A reminder golden ages weren't as shiny as they appear.