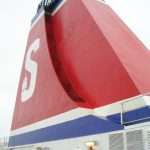 'You read this book on the boat to Fishguard in 2007'.
It seemed an observation worthy of Sherlock Holmes. How could anyone have deduced from looking at Marilynne Robinson's 'Gilead', (my most favourite book of all), that it had been read on a particular journey? Intrigued at such percipience, I asked what had led to such a deduction.
'Because you left a bookmark in it – a boarding card for the Stena Line ferry from Rosslare on 1st August 2007'.
'Ah', I said. I couldn't remember having read the book at that time, but remembered well the day and the evening before: enjoying a celebratory glass of wine in a friend's, buying '99' ice creams from a van at Dun Laoghaire Harbour and walking the East Pier at sunset with a sense of overwhelming joyful exuberance. Setting off at 6 am to check in for the ferry at 8.00, smiling as we passed Sugar Loaf Mountain and journeyed south through Wicklow and Wexford; arriving in Wales and driving for an hour before stopping at the Little Chef at Saint Cleers; waltzing around the car park because 1st August had come and for four weeks there would be no phone calls; I can replay each moment.
It seemed fitting that the most favourite of books had been read on the most favourite of days; it seems odd, though, how selective memory can be. There are occasions that come back with absolute clarity, places visited, people met, yet there will often be no recall whatsoever of the moments before or after.
A psychologist could probably give some persuasive explanation of memory functioning in the way it does, keeping the good stuff to the fore and screening out the bad, but perhaps they might also explain why it is so inconsistent, how good moments can light up the memories of a bad year, and how times that can objectively be recalled as good can be overshadowed in the memory by a single incident or a single unpleasant person.
The holiday in 2007 was a good holiday: time with family in England; time in the Dordogne; time in the deep south-west of France, where we saw the Irish rugby team play; but all those times became overshadowed by returning to Dublin at the end of the month to be met with malicious correspondence.
Why should brief unpleasantness cast a darkness over many good and happy times? Memory is strange. Perhaps keeping a list of books read would allow memories of the books to drive out all shadows cast by less pleasing things.