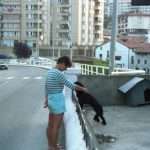 Wedding anniversaries come and go, some memorable, others long since disappeared from recall. 3rd September 1986 was our third wedding anniversary, it was a Wednesday and did not promise to be much different from any other Wednesday in those times.
Less than three months ordained and with a wife still in college, there was not an abundance of wealth. Not that we were not considerably better off than the very many who had to live on the meagre social security benefits paid in a town that had lost nearly all of its traditional industries. A curate's stipend in 1986 was not very much, but it was enough to get by, if one was careful. Some months were more difficult, a coincidence of two or three bills and the money was stretched. The beginning of September that year was particularly tight, we had returned from a camping holiday in France in mid-August and, by the time the utilities and other bills had been paid, there was not much left to get through the month.
Sitting at our weekly Tuesday morning parish staff meeting, the saintly, long-suffering Rector under whom I served, inquired as to where I would be taking my wife for our wedding anniversary, which fell the next day. "To be honest", I said, "we're not going anywhere – the money is a bit tight this month; we'll go some other time". He passed no comment.
While making lunch in the kitchen of the curate's house later that day, there was a rattling sound from the letter box. Walking up the hall, there was a glimpse of the Rector stepping into his car and driving off. There was a brown envelope on the floor with "Ian" written on it in his unmistakable hand. I had only left his house half an hour previously, something must have been forgotten, but why couldn't he just have phoned? Opening the envelope, it contained £15, a sum equivalent to one-sixth of my weekly pay, enough to go out for an evening. It was a gesture that has remained a vivid memory – unnecessary and, definitely, unmerited kindness.
No memory remains of where we went for a meal, probably nowhere very exciting, for we are unadventurous by nature: the food was probably something very traditional and there might have been a single glass of wine. The image that remains is of that envelope lying on the grey hall carpet, my name written in black Biro – a single moment that said more than a multitude of words.