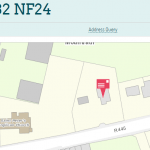 It is more than forty years since postcodes were introduced in the United Kingdom. One of the striking things to a teenage boy of the time was how sensible and logical they were. We lived in the Taunton area of Somerset, so our postcode began "TA". The numbering started with Taunton itself, so the town centre was "TA1, and  then the country districts were numbered in sequence. The small town of Langport near which we lived was designated "TA10". Our village, three miles from Langport, was "TA10 9"; our part of the village was "TA10 9D"; and the block of houses in which we lived was "TA10 9DL". Postcodes were dull and prosaic compared with what had gone before, no more would we write, "Near Langport" when we wrote our address, but there was an obvious and transparent logic in the system. One might have no idea of where an address was, but a postcode would give a clue, thus our neighbouring postal area of Bath had "BA"postcodes, those in Exeter area were "EX", those in the Torquay area were "TQ".
In France, the postal codes were less precise, but had an indisputable logic. The five figure codes begin with the departmental number, the number found on maps, the number used on the registration plates of motor vehicles. Holidaying at a point where the departments of the Gironde, Dordogne and Lot et Garonne meet, it is easy to discern the origin of local cars, the numbers 33, 24 and 49 are very frequent. The three remaining digits in the postal codes were allocated to communes in the department on a consecutive basis. The French postcodes don't provide the precision of those in Britain, but one can quickly locate them.
Ireland had an obvious basis for a postcode system in the logical and sensible motor registration system it introduced in 1987. People are familiar with the county letters, "D" for "Dublin", "C" for "Cork", "L" for Limerick, "G" for Galway, "W" for Waterford; two letters for rural counties, the second differentiating counties that begin with the same initial letter, so "LS" for Laois, "LH" for Louth, "LM" for Leitrim. It was so obvious that one could have used them to devise a national system with an ordnance survey map and the back of a large envelope.
Logic would not suffice, the government insisted on an arbitrary and illogical system. Mountrath is "R32", but so is Portlaoise, the county town. The Rectory on the Portlaoise Road in Mountrath is R32 NF24, the parish church, reached by a connecting gate from the Rectory is R32 EN81, the parish school, directly across the road is R32 CP84. How could anyone have completely ignored the obvious to come up with this? And what government minister sanctioned it? The ill-fated electronic voting machines could not have produced a less sensible system.