An explanation for the bishop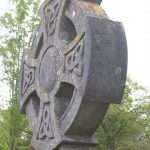 There is a scene in the film Educating Rita where Rita suddenly becomes aware of being a spectator to what was going on in her life. Sitting with her family and friends in a pub, those with whom she sits begin singing a song and she looks around the pub and asks herself what she is doing there.
Such Rita moments are probably common to most people; there can hardly be anyone who has gone through life without asking at least once how they came to be in the particular place in which they had found themselves; how they had found themselves doing things that had been no part of their plan for the future.
For me, such moments come at grand occasions in cathedrals.  They are moments when I find it hard to feel any sense of connectedness with the world in the streets outside, and there is certainly no sense of connectedness with those with whom I grew up. This is not to disparage such occasions, or to be disrespectful towards those who think such moments are important, but to acknowledge that different people have different ideas about where they should be and what they should be doing. Had Rita been the Reverend Rita, she might have looked at cathedral occasions as a spectator might and wondered what she was doing there. Seeing moments as a spectator would see them suggests they are not as vital and gripping to oneself as they might be for others.
For years, it was difficult to understand those army officers in successive generations who preferred to be with their men than to have staff posts. It seemed odd, why would anyone not take a safe and secure job in an office if one was being offered? The passing years have brought a tiny glimpse of what it was that those officers might have sought, it was about looking for what was real, what was authentic for themselves. They no more desired to sit in an office at headquarters than Rita wished to sit in a pub singing a banal song.
If a sense of authenticity in ministry is to be found in sitting at hospital bedsides, talking with residents in nursing homes, sharing bread and wine at kitchen tables, driving boreens, and standing in farmyards and knocking at doors, then walking in cathedral processions is probably a pastime best to be avoided.
I hope the bishop understands why I could not be a candidate for any position in any cathedral.