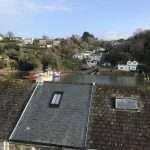 It came as a present one Christmas in the 1960s: a large tin of water colour paints. The lid had a Wild West scene in garish colours, one exciting to a small boy who loved Bonanza and Audie Murphy films. Inside there were perhaps three or four dozen small blocks of colour, in the middle of which was a cardboard dial which one turned to discover which colours to mix to produce other desired colours. With such an abundance of paint options and a good brush, it would surely be a simple matter to produce watercolour pictures of fine quality. Of course, the efforts resulted in no more than childish daubs across the page; good tools cannot change a bad workman. The illusion persisted into adolescent years, that there was somehow an artist within who just needed to be released. Nice paper and carefully chosen pencils produced results no better than those of the earlier years. Artistic endeavour was finally abandoned.
Despite the watercolour tin not having the capacity to product a painter, the illusion has persisted that having the right equipment will somehow create the ability to do things that would otherwise not be attempted. Buying two notebooks in the autumn, there was a notion that their effect, combined with that of my Waterman cartridge pen, would be to facilitate the writing of pages of literary prose and poems that were more than sub-McGonagallian doggerel – the pages still lie empty.
Perhaps it is not just the tools, perhaps it is the workplace, writers seem to live in places that inspire writing, there is a poetry in the landscape and the streets, an essay on beauty in the houses and the gardens, perhaps inhabiting such places provides inspiration that is otherwise lacking.
Sitting looking across the Fowey River on a winter afternoon , the house known as Ferryside lies on the far bank. Pale cream, with pastel blue woodwork, it is a timelessly beautiful place, unchanged in decades. It was the home of the du Maurier family, the house in which Daphne wrote her first novel. The books that followed were inspired by the district; du Maurier's house at Menabilly said to be part of the inspiration for Manderley. If one was to discover one's muse, it would surely be here.
It may be the case that everyone has a book in them, but for some of us that book may have the dramatic quality of a telephone directory. Perhaps one needs a murder, or smugglers, or a mystery to generate a story, perhaps, though, the story would have the quality of a primary school watercolour.