The BBC production of The Passion finished last night with the hideous death of Jesus of Nazareth. The programme was followed by the announcement that the series concludes at 7.30 pm on Sunday evening. "Actually", I thought, "the story concludes much earlier in the day – but I'll settle for Sunday evening if you are actually going to risk offending various groups by suggesting he rose from the dead".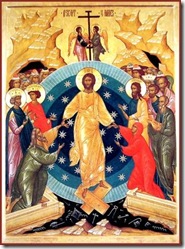 The time between Good Friday and Easter morning has become a time of preparation in good Anglican circles. Our church is now bedecked in flowers of white and yellow and gold, and a banner depicting a butterfly hangs from the pulpit. Boxes of chocolate eggs were bought for giving to the children. A lengthy search produced mesh to attach to our large cross to allow bunches of flower brought by children to tonight's vigil to be attached to it. The decoration of the cross acknowledges that a symbol of death became a symbol of life.
But what of today? What of the day where, in the Creed, we declare that we believe Jesus dwelt with the dead. Other traditions make much more of Jesus preaching to the dead. Whether it's the icons of the Orthodox tradition, or the 15th Century follower of Hieronymous Bosch, who shows Jesus confronting nightmarish figures in the underworld, there is a belief that the time between three o'clock on Friday afternoon and six o'clock on Sunday morning was a time when a battle was taking place, a cosmic battle.
Sometimes referred to as the harrowing of hell, it was a battle to free the spirits of the departed from the powers of darkness. Much as the Orthodox icon is a thing of much greater beauty, the Bosch-
like vision of a battle with demons captures, for me, a sense of the violence of the struggle.
Anything that demanded the events of yesterday afternoon has to be a struggle with the very essence of evil.
Perhaps we are lazy in our spirituality, preparing the vegetables for tomorrow's roast dinner does not confront the reality of Jesus descending into hell.