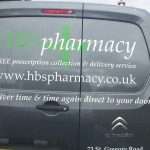 A friend from school days shared a picture on Facebook, a van bearing the logo, "HBS Pharmacy." He added a note that our school's closure in 1989 must have been due to diversification. "HBS" for us meant "Heathercombe Brake School," a strange educational institution that existed in Devon from the 1950s until the 1980s. It comprised two small boarding schools with satellite children's homes. In the seaside town of Teignmouth there was a primary school for girls and boys, together with facilities for secondary aged girls. Boys of secondary school age were sent to an austere cluster of buildings deep within the hills of Dartmoor National Park.
Meeting a friend, last Monday, from schooldays more than forty years ago prompted further reflection on the strange places to which we had been sent.
The school had been founded by fundamentalist Christians and the terms of its charitable status in 1967 smack of the "improving" values of Nineteenth Century evangelicalism:
(a) to help children who are sick, delicate, maladjusted or suffering in any way from neglect or an unhappy or unsuitable environment;

(b) the physical care, education and welfare of the children;

(c) the spiritual, moral and mental guidance of the children;

(d) the scholastic education of the children;

(e) the reinstatement and readjustment of the children to a normal physical and/or mental state to enable them to face life with renewed courage and interest.
Local authorities paid the fees for those of us who attended Heathercombe Brake School, fees which were comparable to those of private schools, but without the prestige or camaraderie associated with a fee paying school. Attending the school removed us from the local communities from which we had come, meaning we were often isolated when we returned, but it did not create the social networks associated with boarding schools.
Personal memories of leaving the school forty years ago are of being severed from the small term time school community in which there were friends and  coming home to a place where some of the people I had once known had changed beyond recognition and where others had forgotten that I had ever been there.
Strangely, it is in the past decade that identification with Heathercombe Brake School has renewed among some of us. Social media, first Friends Reunited, and then Facebook, have reconnected former pupils scattered across the country. The odd experiences we endured at the school have been discussed, if never fully comprehended. Friendships have moved on, have become ones that do not depend on recollections or nostalgia.
Heathercombe Brake School might be long gone: the unlikely ties it created continue.
Click here for a gallery of photographs from the 1960/1970s.