Climbing the path to the Hell Fire Club on the edge of the Dublin mountains this afternoon, I remembered an Easter Monday outing in 1988 – a drive from Newtownards in Co Down to Cootehill in Co Cavan, to visit a friend who was in his first year of ministry. It was a time when one of our close friends was an excellent amateur photographer and prompted us to take a camera everywhere. My pictures were rubbish, but we do have a pictorial record of the time.
The journey required crossing Belfast to reach the motorway west and on the Newtownards road we ran into a single Orange band heading off to a parade somewhere. No-one was watching, except those of us sitting in the cars behind them.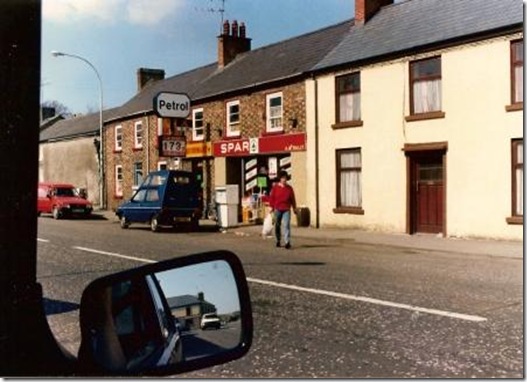 There have always been differences in prices on either side of the border and the stop at the Spar shop on a border road in south Armagh must have been prompted by a desire to save money on something. Even at a shop with one petrol pump, Four Star fuel was only £1.73 a gallon, 38 pence a litre.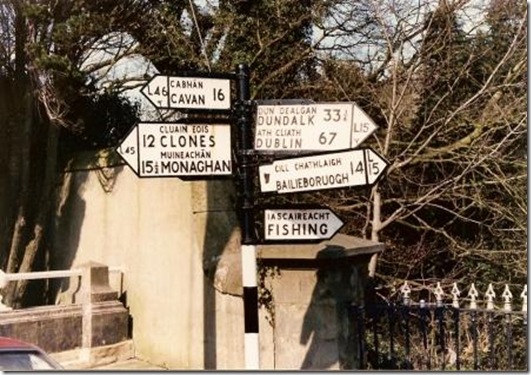 There are still a few of the old road signs to be found. In 1988 they were widespread – they were often more a poetic composition than a definite source of information, the direction of the fingers being frequently adjusted.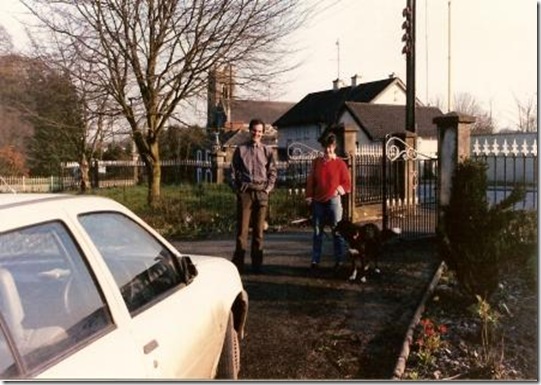 Mark, our friend, stands in his Rectory drive with Katharine – and our dog Maeve. I had completely forgotten we used to take the dog with us when we went to places.
It's amazing how much you forget in twenty years.