The lords of distribution
It's very hard to talk about the world on a Sunday morning if you haven't a clue about what is going on. A review of Liaquat Ahamed's The Lords of Finance suggested this was the sort of book that should be read to have some understanding of the economic crisis that is now sweeping through the country.
Ahamed's 'lords of finance' are the major central bankers of the inter-war years, Émile Moreau, governor of the Banque de France; Montagu Norman, governor of the Bank of England; Hjalmar Schacht, president of the German Reichsbank; and Benjamin Strong, governor of the Federal Reserve Bank of New York. The story begins with the financial crisis at the end of July 1914 and traces the story of its characters through to the 1930s.
The experiences of those years in Europe prepared the way for the darkest chapter in the history of the world as National Socialism took hold in Germany. The reviewer, Niall Ferguson, expressed the hope that "the modern-day Lords of Finance will co-operate to better effect".
Deciding it was a book to be read, I searched for it in Dublin bookshops; it was not to be found. Finally, I went to an enquiry desk.
"It does not exist", I was told.
"It must exist. I read a review of it in January".
More keys were tapped. "Here it is. It's being published on 30th April".
"Would it be available on the US market?"
"No, you will just have to wait".
Hmmm. I tried Amazon; it was there. Looking for a distributor closer to home, I tried Abe Books. The Paperback Bookshop in Gloucester could sell me a copy for £16.80 plus £3.10 postage and packing. Perfect.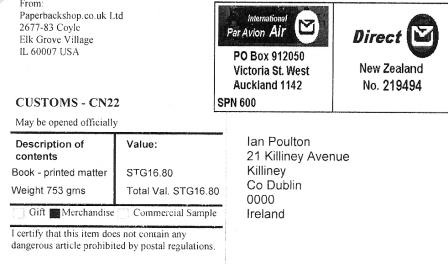 The Lords of Finance came yesterday. Ordered from Gloucester, the package bore an address in Elk Grove Village, Illinois and was postmarked Auckland, New Zealand. The Sterling price of £19.70 translated into €22.99, less I suspect than the publication price will be.
How the sums add up in such business is unclear, but it must pay. The central bankers now must deal with a globalized economy; measures taken in individual countries without international co-operation may simply drive money and jobs elsewhere. Money still in Ireland will now be moving out ahead of Mr Cowen's next round of taxes.