In memoriam: Frank Ledwidge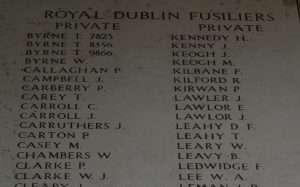 It was a marvellous summer's afternoon at Messines; bright sunshine and a gentle breeze across the fields of Flanders. A group of Belgian workmen had just finished grass cutting and were loading equipment into their van as we pulled up at the entrance to the Island of Ireland Peace Park. The park is a place of simplicity, a round tower with inscribed standing stones and slabs. Along with the memorials recording in stark terms the suffering of the three Irish Divisions, there are recorded selections of words from those present.
The words include lines from two Irish war poets: Tom Kettle, the politician, economist, writer and journalist, who died in September 1916 and Francis Ledwidge, the peasant poet from Co Meath commemorated in Seamus Heaney's "In Memoriam F E Ledwidge", who died at the end of July in the following year.
Ledwidge's words are the concluding lines of his "Soliloquy",
It is too late now to retrieve
a fallen dream, too late to grieve
a name unmade, but not too late
to thank the gods for what is great:
a keen-edged sword, a soldier's heart
is greater than a poet's art.
and greater than a poet's fame
a little grave that has no name.
Standing at the Menin Gate at Ypres this evening the crowd for the nightly ceremony was five or six hundred strong maybe more. Last Post was sounded at 8 pm, followed by Binyon's "Ode to the Fallen" and then the Silence before the sounding of Reveille. As the crowd dispersed we searched among the 54,896 names of those Commonwealth soldiers who fell at Ypres and who have no known grave. Fifty thousand names cover a lot of space.
Among the fallen of the Royal Dublin Fusiliers there was the name of F. Ledwidge, except this was not Francis Ledwidge. He was in the Inniskillings and, although recorded as "blown to pieces" by the chaplain, there was enough of him found to give him a grave. This initial and surname is the commemoration of Frank Ledwidge, son of Frank and Ellen Ledwidge, of 134 Thomas Street, Dublin. A Private in the Second Battalion of the Royal Dublin Fusiliers he died on 24th May 1915, he was seventeen years old.
Remembrance must be about remembering the Franks of the world as well as the Francises.