Going to college in Dublin in October 1983, five weeks after being married the previous month was not a happy experience.  There was no provision for spouses; along with tuition, the church provided bed and board for single men.  The annual grant was £700, if one was married there was an additional £180 per year.  The college was a depressing, even oppressive, place; there were deep divisions, both theological and political, and few happy moments.
Friday was the best day of the week, it meant a return home to Co Down directly after the morning lectures.  A fellow student had a car and we would drive into the city and park at the underground car park of the Setanta Centre in Nassau Street – it was not cheap, but meant a quick escape when the weekly doctrine lecture had concluded at 1 pm.
It was with a spring in the step that Nassau Street was crossed and the Setanta mural was passed on the way to the car park entrance.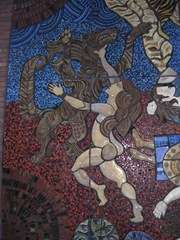 The mural told the story of the Cattle Raid of Cooley, a major event in Irish mythology.  There seemed to be a great deal of battle and killing, including a fight between two bulls, and Setanta, who had become Cúchulainn, during the story ends up tied to a tree and dead.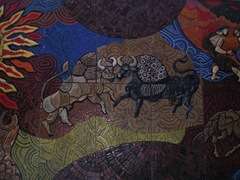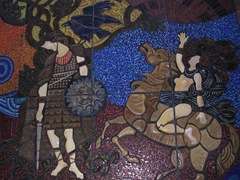 Being an Englishman barely off the Sealink ferry, the mythology was fascinating, but no-one else was interested.  Many of my co-religionists from the North disavowed anything Celtic.  It seemed a matter of pride amongst some of them to denigrate all things 'Irish'.  For some of them, theology stopped in about the Fifth Century and started again with Martin Luther, and Irish history prior to the Seventeenth Century was mostly ignored.  It seemed sad that there was no interest in a heritage that predated every religious and political division.
Ever since those unhappy days a quarter of a century ago, the Setanta mural has been something to look at only out of the corner of an eye.  What was the point in digging up memories of animosity and open dislike?
Sitting in the coffee shop of the Kilkenny Design Centre, looking out at the mural, the time finally came to bury the old memories.  "Come on, let's go and look at the mural!"
A sixteen year old daughter, taught the tales in school and able to speak the language, explained the scenes.  Walking down Nassau Street, the stories continued, there was a tale of Oisín in Tír na nÓg.
'But if Oisín went to Tír na nÓg, why is there an alleged grave in Co Antrim?'
'Because he came back, of course'.
There is a great deal of catching up to do, and no chance of a spell in Tír na nÓg to read up on what has been missed.