A Saturday in June four or five years ago and the Minister for Education stood in the church grounds staring up into the brilliant blue sky.  "You must have had the Child of Prague out this week", she commented.
"Prods don't do the Child of Prague! Tell me about it, though.  What has the Child of Prague to do with good weather?"
"I don't know, it was always the tradition.  The only thing I remember about the Child of Prague is that he always had a cracked neck because his head was so heavy; he was always falling over".
Coming from a tradition which shunned statues, unless, of course, the statue was of some former member of the parish, and which avoided visual depictions of religious subjects, unless they happened to be in stained glass which was often of a sentimental Victorian variety, popular Irish Catholic spirituality was always slightly disconcerting.
There seemed a danger at times of crossing a line between something rooted in Scripture and something that seemed like an appeal to magic.  There would be prayers published in the personal columns of local newspapers invoking saints who might be asked for three favours, two possible and one impossible.  If a candle was lit and certain prayers were said for nine days, and if the person promised to publish the prayer in the newspaper, then the favours would be granted, even the impossible ones.  No-one ever published what impossible favour had been granted and no-one verified the claims; it seemed a preying upon those who were susceptible to suggestion or desperate to cope with a situation.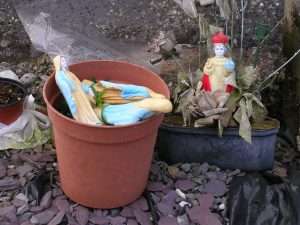 Whatever its faults, traditional popular faith was a spirituality that offered people a channel for their emotions.  It might have offered nothing more than an irrational hope in a hopeless situation, but at least there was hope, a sense that no situation was completely futile.
Walking through a country cemetery, the old ways seem to have been thrown aside, a fading plastic Child of Prague sat amidst dead foliage, while three figures of the Blessed Virgin Mary had been tossed into a plastic flower pot, like litter gathered from the ground around.
The old has been cast out and there has been little to take its place.  The belief that salvation lay in wealth destroyed by the economic collapse, the rising generations have little in which to seek solace.  While their forebears would have recited prayers that were like incantations and bought kitsch religious figures from shops retailing fancy goods, 21st Century Irish  people have left behind the world of invocations.  Even the name of God is more often invoked as a curse than a prayer.
Something has been lost along the way.  Something has not been replaced by something else; it has been replaced by nothingness.