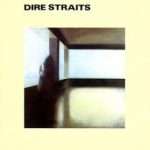 John Creedon recalled buying records in 1979 – Third World's 'Now that we've found love' and a single by Peter Tosh, and then reflected on the discs that have disappeared from his collection – mostly through people coming to his parties and 'borrowing' recordings that took their fancy.
'Have you had records stolen?' he asked his listeners. 'Let me know what you have lost and I'll see if we can do something'. The offer was not to replace the missing items with his own, nor to make pirate recordings, nor to locate replacements via the Internet, instead he would play tracks from the recordings that had disappeared from listeners' own collections.
1979 was a long time ago, what records had I bought that year? It's hard now to remember. I know I bought the first Dire Straits album. But what about Blue Oyster Cult and The Pretenders? Maybe I bought them the year after.
What I do know is that all three albums disappeared – and one reappeared.
In 2009, thirty years on from 1979. My sister in England came to visit us in Dublin.  'You don't know where my Dire Straits album is, do you?' I asked
'What Dire Straits album?'

'Their first one.  It came out in 1978, but I bought it the following year'.

'How should I know?'

A reasonable question, given that I had gone to live in Northern Ireland in 1983 and she had moved to her own home in the 1989.

'What album was it?'

'It was just called 'Dire Straits' – it had 'Sultans of Swing' on it.  I loved that album'.

"Maybe it's still at home somewhere. I don't remember ever seeing it."
Emailing my father brought a result,
Mum has found three Dire Straits albums: Alchemy, Brothers in Arms, and one with no name, but it has Sultans of Swing, Down to the Waterline etc.  Sarah says they are yours.
It was extraordinary. I had responded immediately,
Hello.

The third one is mine – recorded 1978 – it was simply called Dire Straits.
The other two are Paula's (though I'll take them if she doesn't want
them!).
'The other two must be Paula's', I had thought, 'Who else could have bought them?'
Paula lives in Belfast, eight years younger and only 15 when I left for Ireland, I never knew what music she played.
A further email came;
Mum has an idea that one of them may be hers, 'Brothers in Arms'.
Even it was released in 1985 – a quarter of a century had rolled away.
A psychoanalyst could have had a field day.
'Now Mr Poulton, perhaps you would like to sit on the couch there and tell me about this desire to play thirty year old records'.

'Well Dr Fraud, there's this piece of music that I played over and over again when I was eighteen, and no matter how many times I played it, I still liked it.  Thirty years, later I can still play that piece of music repeatedly".

'Very odd behaviour'.

'Indeed, but isn't it good thing that we keep things thirty years in our family?'

'If you say so'.

'I do'.
I thought about texting John Creedon and saying that people's missing records might not have disappeared at all; they might just be in storage. Somewhere, Blue Oyster Cult and The Pretenders may be awaiting recovery.