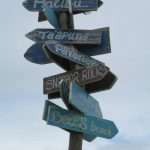 Where is Malibu? Of course, the name is familiar, it's just that the thought never occurred to ask where it might be? On a surf beach at Anglet in south-west France, a finger post advises that it is 9,193 kilometres, which presumably means it is somewhere in the United States, and not in Australia, as I might have imagined. The Australians have surf beaches, but none within such a distance.
Malibu is, of course, world famous; it's a brand of rum. Malibu is also a suburb of Los Angeles in southern California; Beach Boys' territory. Neither of those Malibus has the definite article though. "The Malibu" was a cafe in Westward Ho! on the north coast of the English county of Devon. In the summer of 1972, we spent three weeks on a campsite in the town, with my father going away to work for a week in the middle of it. Some days we had our tea in the cafe, probably fish and chips, I'm not sure.
The abiding memory of "The Malibu" was its jukebox, at the age of 11, and having grown up in a village in rural Somerset, it was probably the first jukebox I had seen. There were few names I recognized and even fewer songs. There seemed to be lots of things by Donny Osmond, a young American singer much loved by my sophisticated twelve year old cousins. However, the song that caught the imagination for me that summer was by a group who were unlikely ever to have been teenage heartthrobs. Compared to the clean-cut Mr Osmond, they looked distinctly disreputable, but who cared what they looked like when their lyrics are still in the memory forty years later.
Dr Hook and the Medicine Show sang "Sylvia's Mother", I can still remember the angst of the time as the refrain was sung,
And the operator says
Another Forty Cents
For the next three minutes.
A few years ago, digging through boxes of 7 inch singles on a Dublin market stall, I found "Sylvia's Mother". It had a torn paper sleeve that was not its original, but there were no scratches. I bought it (along with Gloria Gaynor's "I will survive") for €4. It was probably about ten times what it had cost in 1972, but it was a bargain. I brought it home and played it on the Dansette that I had bought on eBay. There was all the crackly authenticity and the summer sunshine of August 1972.
Had I known how to transfer 7 inch singles onto my iPhone, I might have played "Sylvia's mother" today.