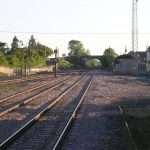 He had been there before, on one of those Irish summer evenings when the light lingers forever. It had been a new found land, a universe apart from the metropolitan world he had inhabited. Fish and chips had been bought in a nearby village and placed on the passenger seat of the car. On a summer's night in rural Ireland when one knows no-one and driving a car excludes a visit to a pub, the railway station seemed a reasonable option. It might be possible to sit and watch the passing trains, like those notebook-armed, anoraked men one used to see at the ends of platforms at stations in England in the days of locomotives.
Of course, in rural Ireland in the latter half of a Saturday evening, the prospects of seeing a train were slim. The Victorian elegance of the platform buildings shouted that this was once a place of note; that those stones might tell stories, tales of trade and of pleasure, of farmers and of soldiers, of single tickets and of emigration, of more sad farewells than happy returns. Closing one's eyes, one could have heard voices and steps, motor engines and cartwheels, shrill whistles and the rush of steam. Few trains ever stopped here now. The goods sheds were long redundant. Times when wagons of farm produce were loaded for transport to Dublin almost gone from memory.
A mantle of sadness lay over the place, not at the loss of what had been, but at the sense of it being somewhere that had never quite been the place it appeared. Like the Victorian railings of 19th Century seaside towns in the West, towns that had never fulfilled the aspirations of their entrepreneurs, the station had never enjoyed the degree of busyness to which it might have aspired. Railways require people and in a setting where the population never returned to its pre-Famine level, there would never be the passengers necessary to give the junction significance.
On a grey October afternoon, crossing the branch line from the station, there was a moment's temptation to return in hope that a train might pass. Perhaps on a Friday afternoon an express filled with people bound southward might sweep through the station, or it might be a moment when one of the six trains that stopped there each day drew to a halt. But if the station was tinged with sadness in the brightness of a June evening, what might it feel like in the misty drizzle of a Midland autumn?