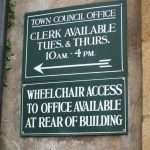 One of the disappointments of the year has been the disappearance of a local newspaper's website, the Western Gazette was the newspaper that described the world of my childhood and youth. As with many newspapers, its title was more expansive than the community it represented. Its coverage was of the affairs of Yeovil and south Somerset, the description of the area as "western" would have seemed odd to anyone living in Devon and Cornwall; our home village was closer to London than to Saint Ives, and we were at the western side of the area in which it circulated.
The Western Gazette had the news that really mattered to someone too young to vote and whose understanding of the outside world was determined by whatever might be gleaned from BBC television news. The stories were of local events featuring names that were recognizable. The newspaper covered the stuff of village life, particularly the funerals. The obituary reports would have a brief note on the deceased and then a list of those who were present at the funeral service. A reporter with a notebook would stand at the church gate taking everyone's names; it was important not to be missed out, and, if present by oneself, to be sure to tell the reporter the names of family members one represented.
The Western Gazette helped created a sense of community because it specified the community of which it was a part. Unlike a local radio station, whose boundaries of listenership are vague, and definitely unlike a website, which is without any geographical bounds of readership, the Western Gazette's coverage and circulation were specific.
With the passing years, there has grown a feeling of need to keep in touch with the business of the community of which I was once part and the Internet address www.westerngazette.co.uk became one regularly visited. If nothing else, it enabled me to know which of the elders of our village had died since my last journey home. Then one day, I clicked on the link and assumed there was a problem, the Western Gazette website was no more, it had been absorbed into something called "Somerset Live," an amalgam of material from various local newspapers. The website seems to be operated by a firm called "Local World" and owned by the Trinity Mirror newspaper group.
Perhaps there was always such a pattern of ownership, and perhaps the new website is the only way to build an online presence, but, with the loss of what was truly local for me, there is no longer the same reason to visit the site.
With our capacity for unlimited communication, we have lost the charm of limited communication that was the hallmark of the local paper.