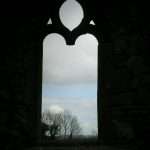 The autumn of 1980 remains a jumble of memories. A year's leave from university on the grounds of "serious stress and anxiety" left me searching for voluntary work and finding it in a convent school for boys with learning disability deep within the county of Surrey.
My accommodation was a room in the gate lodge of the school, a pretty little house shared with two other staff members and their extensive music collections. Eclectic would have hardly been a word wide wide enough to cover the diversity of what they played. Being nineteen years old and unsophisticated, most of it was unfamiliar to me.
There was a cassette of theme music from a Stanley Kubrick film, Barry Lyndon. I had heard of Stanley Kubrick, but never of the film which seemed to be filled with melancholy music. One track evoked feelings that defied articulation,  Sthirtyeán Ó Riada's Mná na hÉireann. It was possible to listen to Ó Riada's work and drift into a deep reverie.
The tune became a recurring motif of life at the school, most of the staff were religious sisters from across the Irish Sea; women of Ireland whose conversation was frequently filled with talk of a land I had never visited.  Ó Riada and Sisters of the Sacred Heart of Jesus and Mary inspired me with a desire to visit a country that evoked such a depth of feeling.
It is more than thirty-six years since I first heard Mná na hÉireann.  It has been heard many times since, including watching the film itself more than twenty years ago; the tune no longer possesses the power it once commanded, the poetic land across the sea seems altogether more prosaic than had been imagined by a teenage boy. Yet odd moments occur.
BBC Radio 4 Extra had a lunchtime broadcast this week of the final part of a story by William Makepeace Thackeray. Did the announcer say Barry Lyndon? The story was of an adventurer, a bully, a chauvinist, a manipulator; it told of a man who was a violent, profligate, wife-beater whose only object in life was his own pleasure. Only when the story reached the point when Redmond Barry's young son fell from his pony and was killed was the realisation reached that this Barry Lyndon and the Barry Lyndon of Kubrick's film were one and the same person.
There was a metaphorical kicking of myself, an imagined slap across  the forehead, a thought of hammering the head against the desk. How could anyone spend almost four decades familiar with the theme music of a film set in Eighteenth Century Ireland and not so much wonder about the source of the story? Barry Lyndon had an existence far more enduring than any film or music cassette.
As the story grew to a close, as Redmond Barry spent the final years of his life not in opulent splendour, but in the confines of a debtors' prison, strains of the theme from Kubrick's film became audible, Mná na hÉireann became the background music to the cold greyness of the last day of February. And, for a moment, it was not Ireland in 2017, but a small house in Surrey in September 1980.