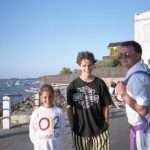 There is something about the Thomson Holidays television advertisement that speaks to something deep in the psyche. Against a background of gentle music, a red-haired little girl walks through a holiday shoreline scene that is in suspended animation: people enjoying themselves, perfect weather, beautiful surroundings, all frozen in time. The girl leaps into a swimming pool where her father stands waiting to catch her. A voiceover captures a sentiment that perhaps many people must have felt at some point, "That moment when time stands still and you wish you never had to grow up."
Of course, Thomson are not advertising to children. The makers of the advertisement know that many people seeing it will immediately associate it with perfect memories from their own childhood. At the time, the adults around may have not thought it a time that they would wish to last forever, but, as children, we have a greater capacity for the magical, a greater capacity to fill a dull canvas with splashes of colour and vitality. Whether or not we are people inclined to take a package holiday, the Thomson images lodge deep in the mind.
Thomson Holidays understand something expressed by Clarence Bunsen, one of the most loveable characters in the American writer Garrison Keillor's fictional world of Lake Wobegon. They understand that there is a continuity in human experience, that an advertisement appeals to adults because they know children have the capacity for imagination that they once had:
"Anything that ever happened to me is happening to other people," says Clarence. "Somewhere in the world right now, a kid is looking at something and thinking, 'I'm going to remember this for the rest of my life.' And it's the same thing that I looked at forty years ago, whatever it was."

If that is true and our lives are being lived over and over by others, I don't know if I should laugh or cry.

If that is true, somewhere a boy rides next to his father in a car, his eyes level with the top of the dashboard, and pulls back slightly on the window crank which lowers the wing flaps and makes the Ford rise toward the clouds. He tests this principle with his right hand out the window, feeling the lift. He sees that the clouds are following this car; so is the sun. The car is under his power and is the center of the world".
Are there not countless children who had such thoughts, or similar ones? The world is a magical place where reality has not yet crushed the power of imagination, where a big old Ford car can become an aircraft soaring through the sky, and where a little girl can walk through a scene of suspended animation. Anything is possible in the realms of the imagination;  the unexpected, the unlikely, the absurd, they are all acceptable.
"It's the same thing I looked at forty years ago", says Clarence Bunsen. There is a continuity in childhood experience.  All around the world there are children whose imaginations can take them on flights, or on walks up beaches.