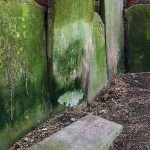 Wandering in a churchyard, its spacious emptiness seemed odd, why had no-one been buried within the precincts of the medieval Parish church? One distant corner offered the explanation for the clear lawns, the gravestones had been removed and leant against a wall. The memorials of the burghers of the town who had once lived in Victorian elegance had been pushed aside, their food fine inscriptions now obscured by mould, mildew and moss. Perhaps the Victorian gentry, with the fondness of their time for the subject of mortality and death, would have found it an appropriate comment on human transience.
The main character of Ian McEwan's novel Saturday reads a biography of Charles Darwin, an experience that both cheers and depresses him:
'At times this biography made him comfortably nostalgic for a verdant, horse-drawn, affectionate England; at others he was faintly depressed by the way a whole life could be contained by a few hundred pages – bot­tled, like homemade chutney. And by how easily an exis­tence, its ambitions, networks of family and friends, all its cherished stuff, solidly possessed, could so entirely vanish'.
The removed memorials with their lines extolling the virtues of the deceased were a reminder of how lives can vanish. Some names may linger in a churchyard until a vicar decides their remembrance is superfluous, others can disappear in an instant, without warning. Shakespeare captures the insubstantiality, the impermanence in lines from The Tempest:
Our revels now are ended. These our actors,
As I foretold you, were all spirits, and
Are melted into air, into thin air:
And, like the baseless fabric of this vision,
The cloud-capp'd towers, the gorgeous palaces,
The solemn temples, the great globe itself,
Yea, all which it inherit, shall dissolve,
And, like this insubstantial pageant faded,
Leave not a rack behind. We are such stuff
As dreams are made on; and our little life
Is rounded with a sleep.
If one had to write one's own epitaph? If one had to choose the words that might be recorded on a headstone, what might they be? There is always that nagging feeling that it might be like one of those school reports, "could do better," except, of course, it would be in the past tense, "could have done better" and there would be no next term to try to improve on the assessment.
"We are such stuff as dreams are made on," Stratford's most famous son would have written some good inscriptions, and they would not have met their end in a corner of a churchyard.