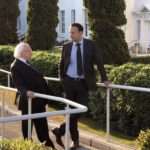 The re-election today of Michael D. Higgins as president of Ireland demonstrates a political culture markedly different from that of the United Kingdom. Physically diminutive, gently avuncular, conciliatory in both the manner and content of his words, unashamedly a poet and a scholar, Michael D. Higgins provides a sharp contrast with the aggressive and confrontational manner of those who occupy the frontbenches of British politics.
There must have been a moment when the threshold was crossed, when the arrogant and the boorish, and the petty and the personal, came to dominate much of the debate at Westminster.  The times of John Major and Tony Blair seem a different world from the hectoring attitudes and ad hominem attacks that have now become the norm for the House of Commons
During the years of Charles J Haughey, Ireland was a place where observers would have encountered entrenched attitudes,cronyism and corruption, and a political culture where the nuanced intellectual approach of Garret Fitzgerald was a minority opinion among the tub-thumping populist politicians who promised electorates whatever they sought. In the past thirty years, Ireland has grown into a model of European liberal democracy, while Britain has seemed to slip back toward the politics of the 1930s.
It is not the case that one side in Britain has a monopoly of virtue, that one side has tried to maintain a liberal democratic tradition whilst the other has drifted towards polarised positions, in both main parties the hardliners have gained the upper hand. The Conservative Party's success in the 2017 general election came through it stealing the clothes of the United Kingdom Independence Party. The party that had been pro-European and had taken Britain into Europe had decided that political success depended on it shedding its former principles. Across the floor of the House, Trotskyites have taken control of the Labour Party. The £3 Labour Party membership brought in a wave of new members who have been carefully managed to ensure not only that Jeremy Corbyn was secure as leader, but also to suppress any voices of dissent toward the increasingly radical policy platform.
While Ireland will continue to prosper as the only English-speaking country in the European Union, Britain will head down the path of economic and political isolation. The Left know that the departure from the EU will bring with it the prospect of governing without restraint from Brussels or Strasbourg; that the Tory Eurosceptics are helping to create a scenario where a future Labour government will implement mass nationalisations and radical taxation reforms and that there will be no-one who will be able to thwart their plans.
Michael D. Higgins will serve as a reminder of the gentleness that was once also a mark of politics on this side of the Irish Sea.