The sound of Northern Soul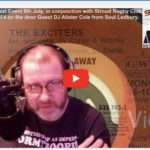 "You'll hear the Northern Soul music coming down the corridor in the morning," warned the head teacher of my new school.
It is hard to imagine music more upbeat than that played by my new colleague Steve McKnight.
Steve has established his own YouTube channel where he regularly spends evenings presenting a selection of Northern Soul records. More than a hundred YouTube viewers have so far subscribed and many more drop by on a casual basis. The live streaming of the music allows those watching to post comments on what is being played. As someone whose knowledge of Northern Soul is limited to names of artists and records, I have felt it wiser not to join the discussion!
Three years younger than me, Steve was among the younger of those who would have journeyed northward to dance halls like Wigan Casino. But, perhaps that was the thing about Nothern Soul, that venues like Wigan Casino were alcohol free. If there was no alcohol for sale, there was presumably no law against anyone attending, whatever their age.
In my schooldays, there would have been people who had never travelled north of Bristol in their lives who would have had "Wigan Casino" written on their pencil cases. The dance hall enjoyed an iconic status among those who sought to be counter-cultural, those who did not enjoy the fare served up by "Top of the Pops" or by the sort of bands that might have appeared on "The Old Grey Whistle Test." Northern Soul music was distinctive in its sound and in its identity, commercial success for an artist almost excluded them from being included in the playlists.
The all-night dances in places like Wigan and Blackpool and Manchester would have demanded huge levels of energy. Undoubtedly, there would have been some people who took various sorts of substances, but watch the video recordings of such gatherings and the majority are there just to dance and to enjoy the moment. Northern Soul dances are occasions very different from the gatherings of fans of psychedelic music in the previous decade.
Perhaps it is the fact that Northern Soul music is about enjoying the music for its own sake that makes it attractive. There is no need to make associations, nor is there a need to have a particular set of memories, it is music to be enjoyed in the here and now of it being played.
A few dance routines will have to be developed for going down the corridor.