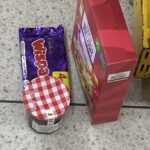 It is not the first time.
Walking through the aisles of the local Tesco supermarket, the random distribution of the items followed the previous pattern. Little assemblages of drinks, confectionery and groceries placed neatly on the floor at the corner of various aisles. Not at every aisle and, mostly, not near the shelves from which the items had come.
Who is doing this? More to the point, why is anyone doing it?
What prompts someone to go to a supermarket and gather up items to leave at random spots around the shop? How long do they spend doing it? How quickly do the staff gather up the things and return them to the appropriate shelves? And, if they know who is doing it, as surely they must from the security cameras, then why do they not stop them doing it?
The one variation this evening was that one group of items included two empty cola tins. Presumably the person's exertions had left them feeling thirsty. Or, given that there were two empty cans, perhaps there were two people involved in what seems a slightly odd ritual.
Taking out my phone, I pretended to be checking messages whilst surreptitiously taking a picture of one group of items. (I hesitated to take the picture openly lest the person monitoring the security cameras thought that I was somehow involved in the activity).
The first time I saw the groups of items, I thought that it was simply staff clearing out of date stock from the shelves. But why then was there only one of each item? Why were they left on the floor instead of being placed in a trolley? And why were some half way across the shop from where they had been?
Then I thought that perhaps children had placed them in the shopping trolley and that parents had removed them and left them lying at whatever point in the store they might have been. But surely parents would have left them on a shelf, even if it was the wrong shelf.
Then I thought that it was perhaps a children's game and that they were leaving things around that might be eaten for a picnic. But that idea seemed to be confounded by the things that were being placed in the groups.
The items at the end of the aisle at which I paused were a packet of Tesco cereal, a four pack of Wispa bars, and a jar of Bonne Maman jam. What logic is there in such a group? Similar groups were dotted around the store.
Is there some condition that compels such behaviour? It is very odd.