I didn't expect to meet you here!
The best places are often the most obscure places.
I spent seven years in a place which most people would find difficult to find on a map. The little parish of Bright is not marked on anything except the largest scale ordnance survey publications. There is no village, not even a small hamlet. There is a crossroads where there is a rectory and a house that was once the post office. Turn right off the main road and drive for a mile and you come to the parish church.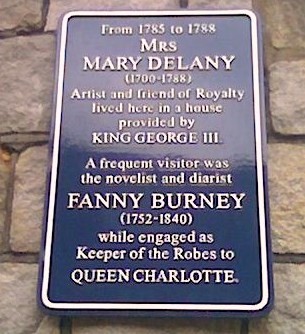 Bright Church is a simple, plain rectangular building in a country churchyard. It has no steeple and no tower. The site dates back to early times and the church was burned in 1316 by Edward the Bruce. It is a place dear to my heart; when my time comes I will be laid to rest close to its walls.
I never expect anyone to know where Bright is. The first Sunday School in Ireland was founded there in 1770, but it has not been a place of great importance since. The present building is not much older than the Sunday School, built in 1745 by Dean Delany, the dean of the Diocese of Down, whose cathedral was in ruins. Delany built Bright Church and its sister church at Ballee four years later. His name lives on not so much because he was Dean of Down, but because his wife Mary became well known as an artist and left a great collection of her letters.
Even with Mary's local fame, I never expected to meet her elsewhere, but on a wall in Windsor, there she was. I wonder, when she lived here amongst the great and the good, whether she ever gave thought to the people in the little parish of Bright?
Does being famous change people so much that they forget all the people they knew? Or riding through Windsor, did Mary ever think about riding from Downpatrick?
When we live in different worlds, do we remain the same person?