Alpbach, Saturday 12th January
It's nice here. "Far from what you were reared to", as they would say back in Dublin.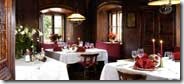 The dining room is perfect, the linen crisp, the glasses polished, the cutlery sparkling, the waiters gracious.
It is sitting in the dining room that the doubt arises. Swirling red wine around in the bottom of a large glass, the past comes back.
An awkward kid who stumbled over his words and who had no friends looks forward from the unhappiness of being seventeen years of age. Without even confidence to talk to anyone in the village, he spends hours in his room reading adventure novels and standing staring out of the window- looking out at a landscape which undulates to Glastonbury Tor and then to the Mendips beyond. The landscape is caught up with its own business, with the farming year, with the passing seasons; indifferent to an onlooker.
Radio 1 fills the air, the Top 40 singles, the upbeat DJs, the stories of people whose lives seem full of laughter. At seventeen he had never been to a disco, let alone knew how to be impressive like the people on the programmes.
One day he would be a journalist, write for a big paper, but that day never came.
The strains of Janis Ian's At Seventeen come to mind,
To those of us who knew the pain
of valentines that never came
and those whose names were never called
when choosing sides for basketball
It was long ago and far away
The world was younger than today
Maybe the past never lets us go, but, hey, seventeen year old, it didn't turn out so bad. Prost!