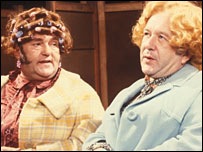 Les Dawson used to tell stories of women working in the mills of northern England. The noise of the machinery was such that conversation was impossible, so they developed the skills of mouthing words and lip reading. Observing the wordless conversations inspired Dawson's 'Cissie and Ada' dialogues with fellow comedian Roy Barraclough. The pair played northern working class women Cissie Braithwaite and Ada Shufflebotham, who would converse normally until something not quite respectable would need to be said and Dawson's wonderfully expressive face would silently shape the words.
The mill women faced lives of constant pressure, yet Dawson was able to find wonderful humour in their relationships and in their coping with the realities of each day. Poor working conditions; noise and pollution; low pay; bad housing; unemployment; few prospects for young people – the list of causes for complaint was lengthy, yet there was a community, a solidarity, amongst the women that enabled them to overcome all that came along.
The ability to cope came from their ability to communicate. Problems were common to all of them and there was a mutual sharing and support on the floor of the mills. It was far from idyllic, but the women stood together through difficult times.
If a trouble shared is a trouble halved for most people; it is said that amongst clergy, a trouble shared is a trouble doubled. There is an extraordinary capacity in clerical groups to magnify problems to such an extent that small issues can push people into a headlong slide into a slough of despond.
A letter came about a three day 'Stress Management Course' for clergy. it would be hard to imagine anything less cheerful than spending three days listening to clergy talking about stress. Anecdotes of how terrible people think things are proliferate at clergy conferences; three days of focus on such stories would be intense gloom.
The causes of stress seem hard to identify. Rectory life has been a vocation; it has been something reached after years of preparation; it is not something begun after responding to an advertisement in the 'Situations vacant' column and turning up on a Monday morning. It guarantees a house that it at worse reasonable, and at best luxurious; a house that comes free of rent and free of maintenance costs. It guarantees pay that might not be great, but is at least secure. It offers job security of around 99% – the number of unemployed clergy is very small. In Ireland, particularly in rural areas, it still offers a social standing not shared by many professions.
The stress mostly arises from interactions, or the lack of them, with other people: from problems in communicating with people who may not share the Rector's ideas; from the lack of any support structure whatsoever to deal with niggling issues; from a simple lack of anything that might remotely resemble a line of management.
It is not a stress management course that is needed, it is a Cissie and Ada Network – and training in mouthing words like 'bishop' and 'archdeacon', and other unspeakable things in clerical life.