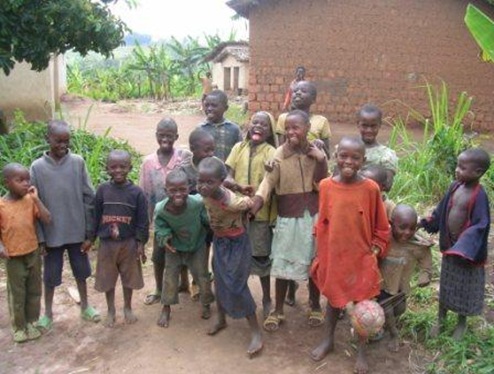 Not eating a brochette from a roadside stop would have meant not having to travel to a Kigali clinic to be diagnosed with food poisoning; it would have meant being able to travel up country. It would have meant a bus ride through a spectacular national park, instead of being left behind, alone.
It would also have meant an opportunity lost; an opportunity to meet people where they were; in their own houses; in their own communities; on their own ground.
It might have been less troubling to have gone to the national park.
Printing off photographs, an encounter with a group of children comes back to mind. "Take our picture", they had said, when turning out my pockets showed I had nothing other than a camera.
Hiding behind the camera, questions did not arise at the time.
Odd questions, like who decided that African children must wear European dress, particularly when that means dressing in little more than rags?
In a country that is so concerned about the biodegradability of waste that it has banned polythene bags, how did plastic sandals suddenly appear as the most common form of footwear?
What games did they play before being taught to fashion a football from rags?
What are the requirements of true happiness when a group of children living in absolute poverty can appear so joyous?
What future is there for someone born into absolute deprivation?
What life expectancy is there?
In a year's time, how many will be left? In two years' time?
What sort of civilised world can spend trillions on weaponry and billions on entertainment, and yet cannot look after its own children?
Troubling.