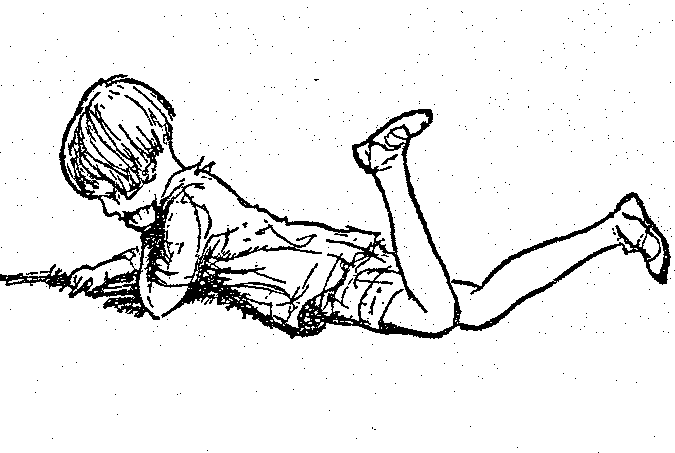 It's a steel-hearted grown-up who can read the last chapter of The House at Pooh Corner without getting a lump in the throat. Christopher Robin is going away to school; his days of doing Nothing with his cuddly toys ­Winnie the Pooh, Piglet and the rest – are at an end. He begs Pooh not to forget him – but we know that childish things are being put away. The sense of childhood's fleetingness is a choker: don't ever read it on a train.
Neville Hawcock's review of David Benedictus' Return to the Hundred Acre Wood in the weekend edition of the Financial Times evokes memories of ten and more years ago. Pooh and Piglet and Tigger and Eeyore were companions on our journeys, Alan Bennett's reading of their adventures would be played again and again until every expression and intonation was embedded in the memory. The red balloon story can still be rehearsed at meal tables. A nine year old son sitting between the pillow at the head of his parents' bed early on an August morning singing, Pooh-like, 'Tiddly pom,pom, pom' and suggesting that this might be a song one might sing on a morning when one was going on holiday, is a memory that will remain as long as memory remains.
Turning to the shelves of theology books in the study, there are two copies of The House at Pooh Corner. It is too important a book to be left among the novels and two copies are necessary: sometimes clergy have been know to borrow books and not return them.
Hawcock's health warning on the final chapter is justified. The anguish of Christopher Robin as he tries to explain his going away and the incomprehension of poor Pooh are beautifully human and bring tears to the eyes of a sentimental cleric:
'Then, suddenly again, Christopher Robin, who was still looking at the world with his chin in his hands, called out "Pooh!"

"Yes?" said Pooh.

"When I'm – when – Pooh!"

"Yes, Christopher Robin?"

"I'm not going to do Nothing any more."

"Never again?"

"Well, not so much. They don't let you."

Pooh waited for him to go on, but he was silent again.

"Yes, Christopher Robin?" said Pooh helpfully.

"Pooh, when I'm – you know – when I'm not doing Nothing, will you come up here sometimes?"

"Just Me?"

"Yes, Pooh."

"Will you be here too?"

"Yes, Pooh, I will be really. I promise I will be, Pooh."

"That's good," said Pooh.

"Pooh, promise you won't forget about me, ever. Not even when I'm a hundred."

Pooh thought for a little.

"How old shall I be then?"

"Ninety-nine."

Pooh nodded.
"I promise," he said.

Still with his eyes on the world Christopher Robin put out a hand and felt for Pooh's paw.

"Pooh," said Christopher Robin earnestly, "if I – if I'm not quite" he stopped and tried again – ". Pooh, whatever happens, you will understand, won't you?"

"Understand what?"

"Oh, nothing." He laughed and jumped to his feet. "Come on!"

"Where?" said Pooh.

"Anywhere," said Christopher Robin.

* * * * *

So they went off together. But wherever they go, and whatever happens to them on the way, in that enchanted place on the top of the Forest a little boy and his Bear will always be playing.
Definitely not for reading on the train.