Contemplating Con's former church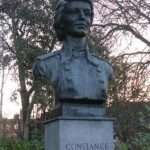 I stood and pondered Con Markievicz in Saint Stephen's Green last Saturday.
Standing at right angles to Tom Kettle, she and he mark the contradictions of Irish history: she the ascendancy Protestant who fought as an officer of the Irish Citizen Army in the Easter 1916 Rising; he the Nationalist Catholic who joined the British Army and died on the Western Front in September 1916.
Con looks impassively across the ornamental gardens once garrisoned by her comrades; her fresh face and groomed hair marking her out as coming from a prosperous background in a country that was filled with the direst poverty.
Neither statue offers much information about the deeply complex personalities they represent.
Given a copy of "Earth Voices Whispering" for Christmas, Gerald Dawe's anthology of Irish war poetry, 1914-1945, it is a delight to find Cecil Day-Lewis's "Remembering Con Markievicz". Day-Lewis beautifully captures the life of the rebel countess:
Child running wild in woods of Lissadell:
Young lady from the Big House, seen
In flowered dress gathering wild flowers: Ascendancy queen
Of hunts, house-parties, practical jokes- who could foretell
(Oh fiery shade, impetuous bone)
Where all was regular, self-sufficient, gay
Their lovely hoyden lost in a nation's heroine?
Laughterless now the sweet demesne,
And the gaunt house looks blank on Sligo Bay
A nest decayed, an eagle flown.

The Paris studio, your playboy Count
Were not enough, nor Castle splendour
And fame of horsemanship. You were the tinder
Waiting a match, a runner tuned for the pistol's sound,
Impatient shade, long-suffering bone
In a Ballaly cottage, you found a store
Of Sinn Fein papers. You read (maybe the old sheets can while
The time). The flash lights up a whole
Ireland which you have never known before,
A nest betrayed, its eagles gone.

The road to Connolly and Stephen's Green
Showed clear. The great heart which defied
Irish prejudice, English snipers, died
A little not to have shared a grave with the fourteen.
Oh fiery shade, intransigent bone!
And when the Treaty emptied the British jails,
A haggard woman returned and Dublin went wild to greet her.
But still it was not enough: an iota
Of compromise, she cried, and the Cause fails.
Nest disarrayed, eagles undone.

Fanatic, bad actress, figure of fun-
She was called each. Ever she dreamed,
Fought, suffered, for a losing side, it seemed
(The side which always at last is seen to have won),
Oh fiery shade and unvexed bone.
Remember a heart impulsive, gay and tender,
Still to an ideal Ireland and its real, poor alive.
When she died in a pauper bed, in love
All the poor of Dublin rose to lament her.
A nest is made, an eagle flown.
Day-Lewi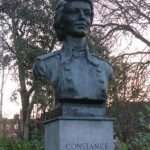 s diplomatically omits a moment important to Markievicz, her admission to the Roman Catholic Church. She found the Church of Ireland tradition from which she came so alien to everything she believed, that she felt that she could only fully identify with the poor by being part of the religious tradition to which the majority of them belonged.
Were Con Markievicz living a century later, it is hard to imagine that she would find much had changed.