A CD of photographs of a trip in April arrived this morning, three days touring the Western Front, through the Somme and Flanders.  Even now, almost a century later, it is still confusing. 
The memorial to Francis Ledwidge has an Irish Tricolour flying above it, hardly likely colours for a grave in Flanders at the time when Ledwidge was blown to pieces while part of a group repairing a road.  The memorial bears the inscription,
He shall not hear
the bittern cry
in the wild sky
where he is lain
The words of a lament written by Francis Ledwidge himself, but not for any man lying beneath the soil of Flanders fields, but for Thomas McDonagh, a leader of the 1916 Rising in Dublin, executed by the British.  The flag and the words just one more contradiction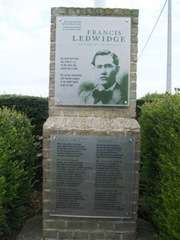 to add to many others.
Three years ago, an encounter with a British forces padre who had served in Iraq and Afghanistan gave insight into what thoughts might have arisen in the minds of Ledwidge and others.
Caring for men on the front line, he asked me, "Do you know what they will die for?"
"They will not die for Queen and country.  They will not die for the Government or democracy, whatever that means.  What they will die for is their mates".
Frank McGuinness's "Observe the Sons of Ulster Marching Towards the Somme", had been amongst the small selection of books taken in April.  It had a poignancy on a day when the views had been of the fields and cemeteries of Thiepval.  The words of the character David Craig in the play capture something missing from the official histories,
"You said you wanted to die. I know what you mean. I didn't want to die, but I know what you mean. I wanted war. I wanted a fight. I felt I was born for it, and it alone. I felt that because I wanted to save somebody else in war, but that somebody else was myself. I wanted to change what I am. Instead I saved you, because of what I am. I want you to live, and I know some one of us is going to die. I think it's me. Sometimes I look at myself and I see a horse. There are hounds about me, and I'm following them to death. I'm a dying breed, boy. I can't talk in your riddles. I used to worry even up till today, when you talked to me like that, in case you were setting me up. I don't worry any more. It was yourself you were talking to. But when you talk to me, you see me. Eyes, hands. Not carving. Just seeing. And I didn't save you that day. I saw you. And from what I saw I knew I'm not like you. I am you".
Is that what it was about?