Searching for Private Allen
Having toured the Somme and Flanders in the spring, the gravestone looked unmistakably familiar, except that it stood alone.  Instead of being flanked by hundreds, or even thousands, of fallen comrades, 2313 Private J. I. Allen, of the 2nd Battalion, King Edward's Horse, lies alone.  "Does anyone come to the grave?" I asked the man looking after the church.
"I have never seen anyone", he answered.
It seemed odd that in a corner of a churchyard in Kilkenny, one of the fallen should lie, apparently forgotten.  No flowers, no poppy cross, nothing to suggest that anyone ever came here to play the Last Post and to recite the words of Binyon.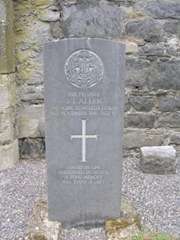 Searching for clues about Private Allen brought more questions than answers.  The Commonwealth War Graves Commission website shows him as Private John Irwin Allen, 2nd Battalion, King Edward's Horse, the son of John and Frances C. Allen, of 100, Upper Tooting Rd., London. who died on 3rd November 1918, aged 27.
Allen is not alone, the CWGC details of Saint John's Churchyard in Kilkenny show that there are four Commonwealth war dead buried there.  How did they come to be here?  Were they killed during the War of Independence?
Searching through the cemetery reports, it emerged that the other three dead were:
Second Lieutenant Leslie Arthur Hyde of the Royal Horse Artillery, who died on 26th October 1915, aged 19.  Hyde cannot have been a casualty of the War of Independence, he died the year before the Easter Rising.
Private W. Pulham, 2nd Battalion, King Edward's Horse, died 17th November 1918.
Private W.T. Willson, 2nd Battalion, King Edward's Horse, died 1st March 1919
Googling Leslie Arthur Hyde shows him to be a Canadian,
Second Lieutenant Leslie Arthur Hyde was born in Toronto, Ontario on June 20, 1896, son of G. B. Hyde and attended St. Andrew's College from 1912 to 1915.

He was a student when he enlisted with the Canadian Expeditionary Force on March 29, 1915 but was serving in the B Reserve Brigade, Royal Horse Artillery when he died on service on October 26th, 1915 at the age of 19.
But there is no explanation as to how he came to be buried in Kilkenny.  A similar search for Private John Irwin Allen produced no results.
Someone must know the story of the Saint John's war graves; it would be good to hear.