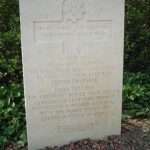 At lunchtime we sat at a kitchen table.  Having held the first Armistice Day service in the parish in at least two generations, there were stories told of those who had returned, and those who had not.  Turning to the Commonwealth War Graves Commission website, we found the details of Sergeant Jock Thompson, who was the member of the crew of a Halifax bomber of 76 Squadron in Bomber Command.  The squadron was commanded at the time of Jock Thompson's death by Wing Commander Leonard Cheshire.  Returning from a mission, Jock Thompson's aircraft disappeared over the North Sea. Jock Thompson has no grave; his name is engraved at the Runnymede Memorial amongst the more than twenty thousand RAF service people who have no known burial place.
Reading the memorial for Jock Thompson, his sister expressed surprise.  'He was not 23 – had he lived another month, he would have been 20'.
In Memory of
Sergeant JOHN JOCELYN THOMPSON
1311822, 76 Sqdn., Royal Air Force Volunteer Reserve
who died age 23
on 03 March 1943
Son of Gerald and Irene Thompson, of Borris-in-Ossary, Co. Leix, Republic of Ireland.
Remembered with honour
'How long had he been in the air force?'
'A few years – he was in the reserve'.
'But he would not have been old enough to join a few years before.  Is it possible he falsified his age so as to join up?'
The question could not be answered without access to service records.
Perhaps the details are not important. Sometimes details known to be wrong are allowed to remain unchanged.  Visiting the Somme last April, one of the most moving moments was at Mametz; a memorial stone declared, 'The Devonshires held this trench; the Devonshires hold it still'.  Walking the line of headstones, it was hard to imagine boys from the beautiful county of Devon being mowed down by machine gun fire in the mud of the Somme.  A company commander, Captain Duncan Lenox Martin had known that the advance would be suicidal and was amongst those who died
Below the cross at its top, the memorial gives details of the events of 1st July 1916; the Devonshires' trench was overlooked by a German machine gun position and many of the West Countrymen were cut down within yards of their original position:
1ST JULY 1916
THE 8TH AND 9TH DEVONS
SUFFERED VERY HEAVY CASUALTIES
AS THEY LEFT THEIR FORWARD
TRENCH TO ATTACK
LATER THAT DAY
THE SURVIVORS BURIED THEIR FALLEN
COMRADES IN THAT SAME TRENCH
AND ERECTED A WOODEN MEMORIAL
WITH THE WORDS WHICH ARE
CARVED IN THE CROSS ABOVE
The burial took place not on the evening of the awful first day of the Somme, but three days later, after the bodies had been retrieved from where the men had fallen.
Does it matter that the details are absolutely correct?  Are there other truths that are more important?  Can you change history in retrospect?