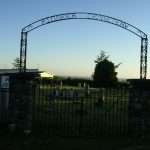 Walking through the Oregon town of Gold Beach on a July evening, a sign pointed to the 'Pioneer Cemetery'. Some 150 years old, the graveyard held the graves of the first towndwellers. Each stone telling its own story, sometimes of those who died old and full of years, sometimes of those whose liveswere cut tragically short. The pain of bereaved parents is sometimes clear in children's ages being inscribed in stone not only in years, but also in months and days.
Working in a small rural community where the churchyards have the quality of bowling greens has been a lesson in how people's regard for their dead can be an indication of their regard for the living. People's respect for the individuals laid to rest in their graveyards is often mirrored by their respect for the living in their own community: people are of infinite worth, whether living or dead. The immaculately cut grass and pruned shrubs are not just about those who have gone before, it is about showing respect for those still with us.
Walking through Gold Beach's Pioneer Cemetery, a particular stone caught the eye. It did not seem contemporary with the deaths recorded, but a later memorial to tragic events some seventy years ago. No information is offered regarding what sadness must have fallen, rather it is the bare starkness of the information that is striking. Five members of the Thompson family are recorded; there is no indication of their relationship to each other.
Edna 1932-1941
Marion 1937-1941
Francis 1939-1941
Irene 1940-1941
Margurite 1919-1941
Standing at the grave, questions came to mind at what might have happened. A motor accident? A fire? Influenza? Some awful multiple killing?
Visiting Gold Beach's excellent museum run by the Curry County historical society, the opportunity arose to ask about the cemetery. The society does a cemetery play each year about the founding figures of the town and has published a book of gravestone inscriptions. If anyone had an answer to the questions that might surround the gravestone, it would be someone here.
The volunteer on duty in the museum welcomed us with warmth and with a keen interest in her subject, but was able to shed no light on what sadness must have fallen the Thompson family in 1941. Not to be easily thwarted, she picked up the telephone and called the writer of the book on the cemetery's grave inscriptions. No-one seemed to have an answer.
There was a moment when it seemed daft to be making inquiries about people who had lived thousands of miles away and who had died nineteen years before I was born. What difference did it make as to what had happened on a far off American day?
Perhaps it made no difference, but perhaps it did. Perhaps it is about believing in human dignity, even if that dignity was of unknown strangers.
Next time someone remarks upon the quality of our Co Laois graveyards, I think I will have a clue about what it that prompts those who care for them