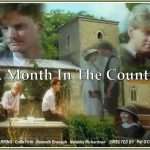 The vicar in Downton Abbey was convincing: a peremptory reading of the burial service without a hint of engagement or emotion. Religion is about the observance of the necessary formalities, about imbuing an occasion with a degree of gravitas; it is not something that preoccupies the popular imagination.
JL Carr's novella A Month in the Country occupies the same post-Great War period. Mr Keach, the prickly vicar might have enjoyed the incumbency at Downton Abbey, he knew not to be overly religious.  He confronts Tom Birkin, the narrator of the story.  It is the summer of 1920 and Birkin's mind is filled with the hideous images of the Western Front, images that have driven out any last vestiges of traditional religion.  But perhaps it was not just the Great War that destroyed the church in England, perhaps the English with a tradition of rationalism and free thought, had little time for traditional religion.  Keach certainly thinks so:
The English are not a deeply religious people. Even many of those who attend divine service do so from habit. Their acceptance of the sacrament is perfunctory: I have yet to meet the man whose hair rose at the nape of his neck because he was about to taste the blood of his dying Lord. Even when they visit their church in large numbers, at Harvest Thanksgiving or the Christmas Midnight Mass, it is no more than a pagan salute to the passing seasons. They do not need me. I come in useful at baptisms, weddings, funerals. Chiefly funerals – they employ me as a removal contractor to see them safely flitted into their last house.' He laughed bitterly.

'But I am embarrassing you, Mr Birkin,' he said. 'You too have no need for me. You have come back from a place where you have seen things beyond belief, things which you cannot talk of yet can't forget, but things which are at the heart of religion. Even so, when I have approached you during your stay here, you have agreed that it is very pleasant weather for this time of year, you have nodded your head and said that your work is progressing well and that you are quite comfortable in the loft. And you have hoped that I shall go away.'
Perhaps it was not such a bad thing to be a vicar in such circumstances.  Tom Birkin had the good fortune to live in a country where he could discuss the weather and wait for the moment when the priest would move on.  The English propensity not to be religious had created a society where people assumed freedom to make their own decisions; where clerical power was diminished by a general air of indifference to ecclesiastical authority.
An unreligious society is one where faith needs to become something considered and serious if it is to endure, it is one where faith comes not as part of the culture, but as a thoughtful personal response.  An unreligious society is one where church becomes something chosen, not something imposed.  An unreligious society would not be such a bad future for Ireland.