All (main) roads lead to Dublin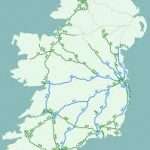 Red flags appear in unexpected places; deep within Leinster counties, the colours of Munster appear at shops and businesses, and even at houses.  It seemed odd at first; why would Leinster people support a different province?
Challenging a Munster supporter who lives very firmly in Leinster, I was told, 'Leinster stops at Newlands Cross'.  It is not true – Leinster players and clubs are from right across the province – but, like most distortions, it contains a kernel of truth; there is a perception of a battle between urban and rural, city and country, metropolitan and provincial.
Looking at the fixture list for the Heineken Cup matches there was a sense that my Munster-supporting friend had a greater insight into the ways of thinking than I had.  Leinster play tomorrow. Sunday fixtures are not unusual, but a 12.45 kick off is.  It means that it is impossible for me to attend the match, (and is the sort of scheduling that would make me think twice about renewing my season ticket, which, because of church commitments, I have yet to have the opportunity to use since the season started in September).
It can hardly be expected that the commitments of a country parson would be taken into account when planning matches, but what about the many people in rural Ireland for whom going to church on a Sunday is still an important part of their life?  Isn't there a hint of Southside Dublin thinking in fixing a match for a Sunday lunchtime?  Isn't it part of a mindset that arranges Irish national life around Dublin, despite that fact that only one quarter of the population live in the city and its environs?
One need only look at a road map of Ireland to see how the infrastructure is Dublincentric.  The motorways are radial, they come from Dublin and go to Dublin; a journey across country is an altogether different proposition than a journey to the capital.  The railways are similarly organised.
Perhaps the infrastructure is an historical legacy, modern roads built on older routes; but even in current decisions where Dublincentrism need not persist, the old attitudes continue. The designation of the Mater Hospital in Dublin's north inner city as the site of the new national children's hospital, a place which is reached only with difficulty by car during busy times and where finding a place to park is like winning the lottery, showed a complete insensitivity to those who live beyond the suburbs. Had a Dublin location been vital, the hospital in the western suburb of Tallaght offered a viable and accessible alternative, but government ministers do not have to drive themselves.
To talk of the problems of rural Ireland to most city dwellers usually invites a contemptuous response, derogatory comments about 'culchies', but when the population outside the city comprises a majority there seems an injustice in the ordering of things.
It's unlikely anything is going to change, but perhaps it is understandable why those red flags are so evident.