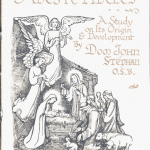 Sermon at Saint Mark's Church, Borris-in-Ossory on Wednesday, 14th December 2011
"That which was from the beginning, which we have heard, which we have seen with our eyes, which we have looked at and our hands have touched—this we proclaim concerning the Word of life" 1 John 1:1
More than any other hymns, Christmas carols seem to attract all sorts of traditions and stories regarding their origins.  Always believing 'Adeste, fideles', 'O come, all ye faithful' to be a medieval hymn that had been sung for centuries, it came as a surprise to discover that it comes from the mid-18th Century.
In 1947,  Dom John Stephan, a Benedictine from Buckfast Abbey in South Devon wrote a booklet called  Adeste Fideles: A Study On Its Origin And Development', carefully researching the origins of the carol, including studying the 18th Century publications in which it first appeared.  The carol comes from the pen of John Francis Wade, an English Roman Catholic who was living and working in the great Catholic centre of Douai in northern France.  According to Dom Stephan, Wade made his living copying and selling music and teaching Latin and church music and wrote the carol between 1740 and 1743.
Born around 1711, John Francis Wade was from an English Catholic family, but, if born in England, went into exile in France while still young.  Being a Roman Catholic in England in the 18th Century was dangerous and Douai became a focal point for the exiles.  Understandably, there was strong support for the Jacobite cause, the Stuart descendants of James II, who had been deposed from the English throne by William of Orange in 1688.  Wade was a supporter of the claims of Charles Stuart, Bonnie Prince Charlie, to the British throne (There are suggestions that 'born the king of angels' 'angelorum' is a pun on 'anglorum' the English). The Stuart cause came to a violent end at the Battle of Culloden in 1746 and Bonnie Prince Charlie made an inglorious exit, dressed as a woman and taken by Flora MacDonald across to Skye.
Wade's political hopes were dashed and he died in exile in Douai on 16th August 1786.  His carol travelled around the world, being translated many times and being attributed to many different sources.  The origin of the music is disputed, Dom Stephan suggests that it was adapted from music popular at the time; most tunes have a long and complex history and the many theories about its source might all have an element of truth.
'O come, all ye faithful' has probably been for so long overplayed that we long ago stopped thinking about what the words might mean; it's background music as we push our trolley around the supermarket, it's words sung raucously (and out of tune) by choirs collecting with buckets for some worthy cause.  But it is a carol which gives us a plentiful supply of subjects to think about when we give it a closer look.
'Joyful and triumphant' are words that are meaningless unless we see beyond the Christmas scene.  There is nothing joyful in being born in poverty, nothing joyful in your family having nowhere to stay except a cattle shed.  Let's have none of the kindly innkeeper nonsense, this is a teenage girl who is left to give birth amongst the mud and the muck.  This moment only becomes joyful if we see this as God breaking into our world to make that world a different place; it only becomes triumphant if we can see beyond Calvary to Easter morning, a child being born is news, a man being raised from the dead is good news.
'Born the King of angels' reminds us of our need to reclaim our tradition from the clutches of the New Age and the occult.  Angels in Scripture are, as their name suggests, messengers; they are also creatures of power.  Michael and his angels fight against the powers of darkness.  Jesus talks of angels as protectors, as guardians.  But in art, angels become androgynous figures in nightdresses, and in our contemporary culture, they become whatever people want them to be.  We see angel shops, people going in to buy things that suggest particular powers, as people in traditional African societies buy items associated with magic.  Doesn't 'angel' mean something more than plaster statues and people claiming to see auras? 'King of angels' is a statement of what Christians have believed since Bible times, we should not have let our heritage slip so easily from our clutches.
'God of God, Light of Light, Lo! he abhors not the Virgin's womb; very God, begotten not created'.  I remember reading a newspaper article that objected to the English translation of the Latin which suggested that the mistranslation meant Christians had misunderstood what they were claiming.  (Presumably, the writer of the article assumed 'Adeste, Fideles' was some ancient document and not a piece of eighteenth century writing).  The writer of the article, like all who argue about precise details of doctrine, misses the point.  God, if he is God, is beyond all human definition, beyond all our attempts at comprehension and description.  The comedian Emo Philips, back in the 1980s, captured a sense of how ridiculous Christians can look when they fight over tiny details
Once I saw this guy on a bridge about to jump. I said, 'Don't do it!' He said, 'Nobody loves me.' I said, 'God loves you. Do you believe in God?' He said, 'Yes.' I said, 'Are you a Christian or a Jew?' He said, 'A Christian.' I said, 'Me, too! Protestant or Catholic?' He said, 'Protestant.' I said, 'Me, too! What franchise?' He said, 'Baptist.' I said, 'Me, too! Northern Baptist or Southern Baptist?' He said, 'Northern Baptist.' I said, 'Me, too! Northern Conservative Baptist or Northern Liberal Baptist?' He said, 'Northern Conservative Baptist.' I said, 'Me, too! Northern Conservative Baptist Great Lakes Region, or Northern Conservative Baptist Eastern Region?' He said, "Northern Conservative Baptist Great Lakes Region.' I said, 'Me, too!' 'Northern Conservative Baptist Great Lakes Region Council of 1879, or Northern Conservative Baptist Great Lakes Region Council of 1912?' He said, 'Northern Conservative Baptist Great Lakes Region Council of 1912.' I said, 'Die, heretic!' And I pushed him over.
Isn't that the way churches look to onlookers? Instead of conveying to people a sense of the mystery of God, we demonstrate our disagreements over things that do not matter to anyone else.
'We too will thither bend our joyful footsteps', the carol is about a personal response to the story of the birth of Jesus.  How often do we ever listen to the story read and regard it as a children's tale?  Haven't we heard it so often that we have become immune to anything it might say to us?  What does it mean to us when we say we will turn our footsteps towards Jesus?  This response is what makes our Christmas something more than all the stuff around us, something that touches our heart, something that lasts after all the stuff is put away for another year.
'Sing, all ye citizens of heaven above', goes the carol, and I wonder how often we have a sense of the communion of saints.  How often when we say 'and so with angels and archangels and the whole company of heaven' do we feel that we are part of that company?  Do we ever have a sense that our little gathering in church is part of something beyond all our imagination?  Sometimes, I think, churches could do better at creating a feeling of worship being something more than a time to be got through before we go home to our dinner; church is a chore, but if we had an understanding of what worship was really about, would it not be something very different?
If each time we sang 'O come' all ye faithful' we thought about one word of the carol and said, 'what does that mean to me?' it could make our Christmas very different from all those that have gone before.