In 1965, the High Ham branch of the Women's Institute produced a scrapbook of village life to mark the Jubilee of the National Federation of Women's Institutes.  Perhaps this was a national initiative, and each branch made its own scrapbook of the year; if so there are, perhaps, hundreds if not thousands of such scrapbooks in existence.
Someone in High Ham has reproduced that scrapbook, having each page scanned and printed on high quality paper.  Each page of it is a delight, the photographs and the handwritten items providing first hand accounts of the place that was home and I am grateful to primary school classmate Les Plant for a copy.
There are faces instantly familiar, Miss Rabbage our school teacher conducting the WI recorder group brings memories of the discordant  noise we would generate in the classroom. But those most recognizable are those whose work brought them to our door.
'Nipper' Knowles drove a milk float for Cricketer Dairies and called six, if not seven, days of the week; the crates of gold and silver topped milk bottles announcing his progress along the road. His passing resemblance to footballer Alan Ball made him easy to identify. Den Legg is pictured with a basket of bread in his right hand. 'Maisey's Door to Door Shop' declares the sign along the side  bakery van he drove which called three times a week with fresh baked bread; loaves that came with thick crusts and which were cut in thick slices with a breadsaw; slices that were thickly buttered (and, if you could not see your teeth marks in the butter, you hadn't enough). A white-coated man stands with a van from Bryant's, the hardware merchant from Somerton; the van would call each Monday evening and we would buy paraffin for the heaters from him.
Handwritten notes on the postal service explain, 'The morning mail for High Ham and Low Ham is delivered by van to High Ham post office. Subsequent delivery was made by Mr Hunt until his illness in the summer, since when it has been done by Mr B. Bown. The Henley mail is delivered direct by van, as is the afternoon mail for High Ham and Low Ham'.  It is difficult to imagine a time when post came twice a day, but Mr Bert Bown is pictured standing beside his Austin A35 van.
It is odd how the trivial and the commonplace can become so valuable, how people to whom one would generally have not given a second thought now figure prominently in the recall. People long dead suddenly become vigorously alive, even their voices can be heard, rebukes and laughter, stories and arguments.
Will there be such a record of the current times? Will people make scrapbooks of village life in 2011? And, if they do, what will they put in them? So much has gone that the pages from 1965 cannot be matched by contemporary equivalents.
There are more pictures to look at, more faces to remember, more names to bring back to life.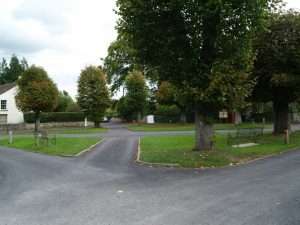 ________________________________________________________________________
Postscript
Some other High Ham related posts:
http://www.forthefainthearted.com/2011/08/28/the-world-is-getting-smaller-or-high-ham-is-very-big/
http://www.forthefainthearted.com/2010/12/21/another-solstice/
http://www.forthefainthearted.com/2010/04/05/searching-for-the-dead/
http://www.forthefainthearted.com/2009/11/29/unravelling-mysteries/
http://www.forthefainthearted.com/2009/07/18/last-day-at-school/
http://www.forthefainthearted.com/2009/06/10/the-person-at-the-front-of-the-classroom-is-real/
http://www.forthefainthearted.com/2009/02/21/scents-sense/
http://www.forthefainthearted.com/2008/03/21/forty-years-on/
http://www.forthefainthearted.com/2007/11/09/at-the-going-down-of-the-sun/