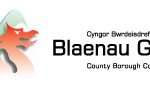 Driving through South Wales, the sat-nav was taken from the glove compartment of the car and switched on. 'Emily', as it is called, is annoying at times, particularly when one follows diversion signs and she ignores responses to her persistent commands to return to the marked route. There was no need for her presence at all, the journey was one travelled on numerous occasions and we would have been able to give directions to anyone who might have asked. Emily's advice was sought not for directions, but to calculate the remaining journey time so as to text our hosts.
Somewhere near Swansea, Emily became agitated. Our junction for leaving the motorway was still miles away, close to Cardiff, and there was no need for Emily to be making her presence known. She became more insistent, advising us that we should be turning left imminently. Having time in hand, we decided to risk Emily's directions (she can be quite eccentric at times, once taking us from the southside of Dublin to the city centre on a zig-zag route through the suburbs).
The road took us northwards and then eastwards across the heads of the Welsh valleys. Progressing towards our Herefordshire destination, we passed signs for Rhonnda Cynon Taf and then Blaenau-Gwent. We were in that part of Wales of which an English Conservative Party MP once commented that they did not count the Labour votes, they weighed them.
South Wales was a mythical place in childhood days – a land of male voice choirs and magical rugby players and mellifluous place names. There was a moment in the early 70s when Llanelli rugby club scored a major victory, defeating the All Blacks 9-3. There were memories of Max Boyce, standing in his raincoat, wearing a rosette holding a giant leek, singing songs that would echo around the Arms Park. This was the land of mines and steel and the devout making their way to plain stone chapels on Sunday mornings.
What would the giants of the past have made of the current times? Were Dylan Thomas writing in the 21st Century, where we would have found his inspiration? Might there still be a Llareggub to inspire lines on dreams and sub-consciousness? Might there still be communities where people still lived in such closeness?
Emily would not have understood memories, would never have known the thrill of JPR Williams flying up the field, ball in hand; and her pronunciation of Welsh placenames was definitely dodgy, but her re-routing of our journey brought a moment of great reverie.