It's a long way from Clare to here . . .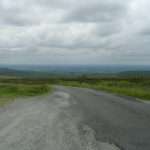 The realisation came in a moment last year.
The counties blended seamlessly, one into another.  Offaly crops up at unlikely moments, west of parts of Tipperary and east of parts of Laois, and the rolling miles of Tipperary run from the Midlands almost to the south coast.  A single journey of thirty miles may bring a dozen or more radio stations into range.  Driving from Kilkenny across the western edge of Laois into North Tipperary, a flick through the stations brought the sound of Clare FM.  There was suddenly a feel of being in a different Ireland; this was the sound of the place where the great Cliffs of Moher met the pounding waves of the Atlantic; this was the place where standing looking out to sea brings visions of a vastness stretching out to America.
Clare assumed a mythical status in student days thirty years ago.  It was the place of which the pub singers with deadpan expressions sang on Friday nights to lonely men sat alone at tables.  Ralph McTell's lyrics captured the mood amongst the drinkers on those winter nights in England.  In the days before Ryanair, to be in England was to be a day or more's journey from the Irish village that was home.  The cost of travel by train and boat might take as big a proportion's of the week's wages as flying from America would now.  The pints of stout and the sound of the music made life look different.
"And the only time I feel alright is when I'm into drinking
Oh it eases all the pain off it and levels out my thinking

It's a long long way from Clare to here
It's a long long way from Clare to here
Oh, it's a long long way, it gets further day by day
It's a long long way from Clare to here

I dream I hear a piper play, maybe it's emotion
I dream I see white horses dance upon that other ocean

It's a long long way from Clare to here . . ."
Turning towards Roscrea that morning, there was the thought that McTell's lyrics belonged to another age; exile was a thing of the past.  Then, just like those waking moments when the realities of a new day shatter the contentment of sleepfulness, there was a realization that McTell is not only the past; he is also the future.  In a few brief years, the reckless incompetence of the Fianna Fail government bankrupted the country.  Tens of thousands are again leaving.  The pubs of cities in other countries will again see lonely men in Friday nights.
RTE's 'Prime Time' programme this evening focussed on emigration; the sterile discussions of failed politicians offered little to alleviate the bleakness.  Clare again becomes mythical.