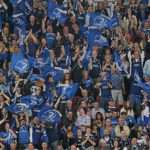 Having had little opportunity this season to make use of the season ticket for Leinster Rugby, the prospect of attending the semi-final of the European Cup seemed tempting;  the might of the French side ASM Clermont-Auvergne will make the clash formidable.
The travel advice from the Official Leinster Supporters' Club is not encouraging; it 's one of those, 'if I was going to Killarney, I wouldn't be starting from here' situations:
Unfortunately, direct flights are limited at this time of year. From Dublin you can fly with Aer Lingus to Bordeaux, however note that fights are not everyday. We have already spoken to Aer Lingus, they are unable to add more flights to Bordeaux however may, subject to demand, increase the size of aircraft used on the existing scheduled services.

Other options

Fly to Toulouse with Aer Lingus and drive/take a train to Bordeaux (244kms)

Fly to Paris – Take an internal flight (Air France), drive (587kms) or take a train (4.5hrs) to Bordeaux.

Fly via the UK – Easyjet fly to Bordeaux from Bristol, London Luton and London Gatwick. Ryanair fly to Bordeaux from Edinburgh as well as Bergerac (112kms) and Rodez (255kms) from elsewhere in the UK.
'Ah', I thought, 'I have an advantage; I'm already in France that weekend; albeit on the other coast. It would seem a simple matter to hop on a train and go to the match.
Have you ever tried to go across France by train?
It's not as though we are anywhere obscure; we are at Perpignan. It's a big mainline place.
Hours were spent trying every permutation that SNCF might offer. It was possible to reach Bordeaux in four hours by train, not bad for the 280 mile journey, but the last departure to come back was at half past five in the afternoon. Thanks to those who schedule the matches according to the demands of the television companies, the match does not kick off until four o'clock.
'Never mind', I thought, 'I'm sure there are coach operators'. In Ireland, when there are no trains, CIE buses or  private operators fill the gap.  JJ Kavanagh run buses to Dublin Airport at those times when public sector transport is fast asleep.
Having visited France on summer holidays for twenty odd years, it must be said that coaches have never been very apparent; that's because there aren't any. Apart from local services, there are no buses.
The best SNCF could offer was to catch a train up to Limoges and a sleeper back down to arrive in Perpignan after seven the next morning. It was absurd; it was simply impossible to get across France without staying up all night.
There is only one option – to drive there. The best beloved, worn down by the series of sighs and muttering at each failed attempt at discovering a route by public transport, finally said, 'you can have the car that day'.
Should there be any Leinster fans requiring a lift from the Mediterranean coast; I am leaving Perpignan around 8 am, email me : ian at for the fainthearted dot com  Outside of Paris, French public transport seems rubbish.