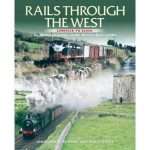 Rain falling at a forty-five degree and a wind sharp enough to induce pain in the sinuses: Easter Monday in Ireland.
Logs are piled into the stove and a match set to the kindling. Outside the window, the clouds are unbroken. The list of things that might be done is extensive, but it is a holiday, an excuse to do nothing other than read a book bought in Dublin last month.
'Rails Through the West: Limerick to Sligo, an Illustrated Journey on the Western Rail Corridor'. The title capturing the rhythm of an elderly CIE locomotive struggling to pull a mixed goods train through the Western counties of Ireland. The back cover declares that the book, 'illustrated mostly in colour from the 1960s to the present, is a portrait of the Limerick to Sligo railway line in its Indian Summer'.
Even the phrase 'Indian summer' has about it an air of the melancholic; an expression of awareness that this is the late and last light of a time that is past, that it is an ending, an epilogue, a coda to a work that is now complete. Perhaps it is the colour photography that adds a poignancy to the images that fill the pages. Growing up when times past were rendered in an often grainy monochrome, the colour images from the 1960s and 1970s give the scenes an air of immediacy, as though they might have been taken last year, or last week, or yesterday.
There is a scene from Ennis station in 1972, cattle are being loaded into battered railway wagons; the platform is shinily wet after a fall of rain. Flowers grow against the base of the station wall, a palm tree evinces the mildness of the Co Clare climate. At the far end of the building, creeper has reached the level of the eaves, two cows feeding upon it as they wait to board the train. Beyond the cattle stand flat capped men. Closer, with their backs to the camera, two men; one in a tweed cap and fawn macintosh; the other bare-headed and dressed in his best brown suit, for buying cattle meant dressing seriously.
Forty years later, and the chance of encountering them is probably slim, yet, there is a sense of a moment being frozen in time, as though someone might press the 'play' button and the characters might turn and smile and talk about the wetness of the weather and the high price of cattle.
There is a melancholy in moments no more than five minutes past being now so distant that the cast of characters may now be long dead, and the scenes of their activity now invisible.