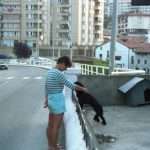 It was July 1988 when we were last in Mutriku. With five words of Spanish, and none of Basque, we crossed the Bay of Biscay from Plymouth to Santander in gale force winds that brought vows of never sailing anywhere ever again. Two nights were spent at the Cantabrian resort of Comillas before we drove eastward into the Basque country. Reaching the fishing port of Mutriku, our Spanish vocabulary, supplemented by sign language, gained us a nice spot in a campsite on a hill above the town.
Mutriku provided a base for exploration of the Basque lands around. There was a trip to Gernika, the old Basque capital. We searched in vain for a memorial to the events of 26th April 1937 when Nazi aircraft supporting Franco launched a bombing raid on the town; it was defenceless and it was market day, hundreds died. Pablo Picasso's painting 'Guernica' would later immortalise the atrocity.
Our visit included a tour of the former Basque parliament building. 'Do you not think he could at least speak English?' an American woman standing beside us asked when the guide began the tour.
'Do you not think he is making a concession in speaking Spanish and not Basque?' I answered.
The man looked at her and shook his head. 'Americanos', he muttered.
On 31st July, the feast day of Saint Ignatius Loyola we went to his home town to attend church. Black-cloaked Jesuit priests looked dressed for parts in some historical drama; one stood conversing on a cordless phone, his attire contrasting sharply with the communication technology. Mass times were displayed in the porch of the great church; there were Masses in two languages in Basque and in Castilian, a subtle reminder that Spanish was still regarded as the language of Castile by others in the country.
Yet in the midst of moments and names that figure large on the stage of history, the most vivid memories of the days at Mutriku are of two dogs.
A Dutch couple camping next to us had an Airedale terrier that would stay at their tent when they went out. Not tethered, he was free to move around and preferred human company to being alone. If we were at our tent, he would come and lie contentedly beside my chair, only moving when he caught sight of his owners returning.
Each evening, we would walk down to the harbour and pass a workshop outside of which a small black dog was tied. It had a kennel and food and water, but what it really wanted was friends. Each evening my wife would stop and pat it and express concern for its welfare.
Tomorrow, we are returning to Mutriku. The dogs are long since gone; their desire for company and respect remains fresh in the mind.