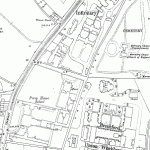 Mrs Jenkins lived in extreme deprivation. Dressed in clothes that had not been changed in years, shunning the company and care of others, living in a single room of a house approaching dereliction, rambling about a girl called 'Rosie'; she resembled someone many will have encountered, in both urban an rural communities.
The source of Mrs Jenkins' psychological state is the memories of her children being taken from her in the London of the 1900s. A resident of a workhouse, Mrs Jenkins was not regarded a fit person to be mother of her own children. They were taken from her and each of them died in the care of the institution and were buried in unmarked graves in a common plot.
Mrs Jenkins was a character in BBC television's Christmas Day edition of 'Call the Midwife'; a fictional creation, or semi-fictional for the series arises from the writer's own experiences as a nurse in the East End of London, working with an Anglican religious order, in the East End of London. Her years of grief prompt Jenny Lee, the central character, to investigate the fate of the children and to discover their final resting place and to take Mrs Jenkins to the spot where the mortal remains of her children were laid in the cold ground. More frequently, children in such circumstances were sent to foster homes or given for adoption.
Jenny Lee's investigation brings her a gentle rebuke from one of the sisters of the religious community at the convent from which she works. Quoting lines from the Apocrypha, the sister tries to suggest that there is little good served in reminding people of their former pain. Nurse Lee believes that it matters for a person to know the truth.
Watching the programme, there is a moment of realisation. My grandfather was Born at Isleworth Infirmary, Middlesex on 2nd November 1906, his mother Ellen Poulton, a machinist from Chiswick, immediately disappears from view. No father's name appears on the birth certificate. The infirmary, which was part of Brentford Workhouse, is given as Ellen's address.
Was my grandfather one of those taken from his mother in the workhouse? Did Ellen Poulton cry the tears of Mrs Jenkins? Did she scream the 'workhouse howl' described by one of the sisters in 'Call the Midwife'?
Jenny Lee discovered the truth for Mrs Jenkins, through painstakingly going through registers at the public record office. No such research seems possible for Ellen Poulton; the workhouse records seem to have been destroyed when it became a hospital in 1915.
Perhaps there is little good in digging up former stuff.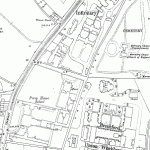 Postscript:
The thought of the workhouse howl prompted further searches for my great grandmother. It was sad to discover that in 1911, five years later she was in another workhouse and died the following year, aged 24.