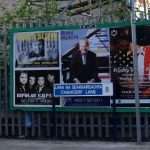 In teenage years, there was a half-formed notion that there was some age at which one became 'old', an age at which tastes, views, opinions, even personality became somehow different.
Listening to Risteard Mulcahy and his son Richard in conversation with Miriam O'Callaghan on RTE Radio, prompted thought about what age 'old' might be. Millionaire entrepreneur Richard had chosen Leonard Cohen's 'Suzanne' as a piece of music to be played, Risteard, his nonegenarian cardiologist father, confessed that he was not taken by 'modern' music, though was impressed by Cohen's lyrics. The description of Cohen as 'modern' sounded strange. An artist aged seventy-eight, a recording that was forty-six years old, hardly contemporary, cutting edge stuff. Perhaps, though, there is an age one reaches when one feels that one's times are complete and that anything that follows is from a new time. But if there is such an age, when does it come?
In the 1970s, there did seem a difference, the septegenarians would not have been expected to be listening to Leonard Cohen, no matter how impressive his lyrics. Older people were assumed to be inclined to listening to Charlie Chester playing, 'Your Hundred Best Tunes'.
But have things changed? Is the present time one when there is no need to become 'old'? Is it now possible to live into one's nineties liking the music one liked when one was in one's twenties, even when that music is popular among those a fraction of one's age? Buying the maximum allocation of nine tickets for a Bruce Springsteen concert last summer, I found myself, unexpectedly, with three spare tickets on my hands. Finding a buyer was no problem, the chance of attending the concert was seized upon by three classmates of my daughter – nineteen year olds who spent hours waiting outside the venue in order to get close to the stage when the gates opened.
If Springsteen is still playing in his seventies, will there still be teenagers wanting to see him? If Leonard Cohen lives into his nineties, he will, presumably, still like his own music, and will there still be people two generations younger who enjoy both Cohen's music and music from artists seven decades younger than him?
In twenty or thirty years' time, will such terms as 'old' and 'modern' have become things of the past? Will people simply judge material not on the age of the artist, nor on from what generation the material may have come, but simply on whether or not they like it? Have we reached an age when age is no longer relevant?