Sermon for Sunday, 2nd June 2013 (First Sunday after Trinity/Second Sunday after Pentecost/Ninth Sunday in Ordinary Time)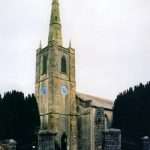 'For I also am a man set under authority' Luke 7:8
What does it mean to acknowledge the authority of God in the way the centurion does? What does it mean to live our lives as though the authority of God comes before any other thought we might have, that living God's way is our first priority? We might think of living under God's authority in terms of three 'r's: rebel, rely and respect.
Sometimes respecting God's authority requires that we rebel against human authority, that was the experience of Elijah. Elijah has followed God's ways and it has left him alone and isolated. As he confronts the prophets of Baal Elijah's prayer to God is that God himself will make it clear that Elijah has not been a rebel for the sake of being rebellious, but has rebelled because that was what God required. In today's Old Testament reading, in the First Book of Kings Chapter 18 Verse 36, Elijah stands facing those who have opposed God and he prays, 'let it be known this day that you are God in Israel, that I am your servant, and that I have done all these things at your bidding'.
The early Christians learned very quickly that living under the authority of God could quickly bring them into conflict with human authorities. In Acts Chapter 5, the apostles have been told that they are not to preach about Jesus, and are brought before the Jewish council for disobeying the instruction, Peter and the apostles are plain in their answer, 'We must obey God rather than men'. Had their not been the willingness to disobey rulers and to disobey laws, the Gospel would never have spread.
Being prepared to be a rebel has become a mark of being a great Christian. Look at the martyrs of the 20th Century, and they were people whose desire to live in God's way brought them into conflict with the powers of the state: Dietrich Bonhoeffer in Germany and Martin Luther King in the United States were prepared to defy popular opinion and to defy the law because the authority of God was greater than any human authority.
Being prepared to rely on God alone is not a decision taken lightly, but it is one that Saint Paul has made in today's Epistle, in the Letter to the Galatians Chapter 1 Verse 10, he says, 'If I were still pleasing people, I would not be a servant of Christ'. It is a lonely vocation to pursue, choosing to put one's faith first in the knowledge that it is going to make one unpopular with those around, that they are not going to be pleased. Human nature makes us want to be liked, but there are times when we must rely on God and go against our natural inclination.
Saint Paul would have understood what it meant to completely rely on God. He had been present at the execution of Stephen described in Chapter 7 of the Acts of the Apostles and Chapter 8 Verse 1 says, 'And Saul approved of their killing him'. Stephen's preparedness to die, relying on nothing but his trust in God, must have had a profound impact on Paul. What was this faith that people would rely on it rather than saving their own lives? What power was it that so filled Stephen that he could speak to the council knowing that his words might cost him his life? 'You stiff-necked people, uncircumcised in heart and ears, you are for ever opposing the Holy Spirit, just as your ancestors used to do', says Stephen in Chapter 7 Verse 51. He stands alone, but stands relying on God.
Saint Paul is anxious to make clear to the churches of Galatia that he relies upon God for his authority; he spells it out in very plain terms in the Letter to the Galatians Chapter 1, Verse 11 and 12, 'I want you to know, brothers and sisters, that the gospel that was proclaimed by me is not of human origin  for I did not receive it from a human source, nor was I taught it, but I received it through a revelation of Jesus Christ'. Paul would suffer on many occasions for being prepared to rely on God rather than men.
To be a rebel is required when we face a clash between the authority of God and the authority of the world; to rely on the authority of God enables us to live in a world that may be hostile to that authority; to be people of respect commends the authority of God to those around us.
The centurion in today's Gospel reading is a man who respects others and who is accorded respect. The centurion, a Roman, a Gentile, asks the Jewish elders to ask Jesus to come to heal his slave and they act out of respect for him, Saint Luke Chapter 7, Verse 4 and 5 tell us, 'When they came to Jesus, they appealed to him earnestly, saying, 'He is worthy of having you do this for him, for he loves our people, and it is he who built our synagogue for us'. The centurion shows profound respect for the people among he works and profound respect for Jesus, declaring in Verse 7,  'I did not presume to come to you'. In his actions and words, there is a deep respect for the authority of God.
Do we commend God's authority in such a gracious way? Can people look at us and regard us with respect and, through the respect they have for us, take seriously what we say? Jesus urges us in Saint Matthew Chapter 5 Verse 16, 'let your light shine before others, so that they may see your good works and give glory to your Father in heaven'.
We can be people who rebel and people who rely on God, but if we are not respected, our witness to God's authority can be unsuccessful. The centurion understands how much authority depends upon respect, in Saint Luke Chapter 7 Verse 8 he says, 'For I also am a man set under authority, with soldiers under me; and I say to one, 'Go', and he goes, and to another, 'Come', and he comes, and to my slave, 'Do this', and the slave does it.' The soldiers and the slaves may not have liked orders, they may have resented them at times, but his acknowledgement of how readily they comply shows him as a man who is respected. In verse 9, Jesus says, 'I tell you, not even in Israel have I found such faith'.
May we be people subject to God's authority, with Elijah's willingness to rebel against wrongdoing, with Paul's willingness to rely on God alone, and with the centurion's respect for his neighbour and for God.