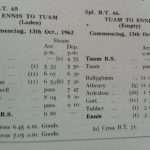 The newspaper article said premises sought for a new sugar beet industry should be within five kilometres of a railway. Might we again see the autumn beet 'campaigns' and the wagons being hauled through the Irish countryside? Might we hear the rattling of trucks on metal tracks through the darkness of November nights?
This is not comparable with Spanish trains that stop in the French town of Cerbère before travelling through the small hours to reach Strasbourg or Luxembourg in the morning. It is certainly not comparable with the town of Hope in British Columbia, where mile long trains hauled by groups of three Canadian Pacific or Canadian National Railway locomotives continue their procession across the continent through the night hours, waking unwitting visitors unused to logistics on such a scale. This is an attempt to revive a domestic industry in a small country.
Fifty years ago, there would be special railway timetables for trains that would haul beet to the sugar factories, perhaps there was a desire not to congest the lines, though passenger services were so sparse that would hardly have been likely; perhaps it was an attempt to make the most use of the locomotives and rolling stock available; but there were beet trains that ran through the night. A 1962 timetable shows a beet train departing from the factory at Tuam at 11.30 pm, rolling south with empty trucks to leave at stations along the way, reaching at Tubber  at 3.20 am before going on to Ennis. The wagons would have been filled during the day and then taken back to Tuam in the evening. Local communities would have become familiar with the rattle of couplings and the click-clack of laden wagons crossing points sounding through the chill night air of the Irish autumn.
Staying in Carlow in the autumn of 1985 and wakened in the early hours of the morning, the rumble of night train making slow progress seemed a thing of the imagination: what trains were there travelling at night in Ireland? Our host assured us at breakfast that it was nothing more sinister than beet being drawn to the factory.
In times when An Garda Síochána adopted a more lenient approach, the beet campaign each autumn could be a hazardous time on country roads. It was easy to round a corner to come face to face with the tail end of a trailer carrying neither lights, indicator,  nor number plate, pulled by a tractor devoid of any rear view mirrors.  A 21st Century beet campaign would be an altogether different logistical enterprise.
A revival of growing beet for sugar production would benefit many rural communities and the trains might start rolling again. Drowsily hearing the sound of a train has a deeply reassuring quality. One could rest easy if one knew that the world was so well ordered that the 2330 from Tuam could safely arrive in Tubber at 0320.