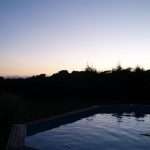 Driving through Co Offaly in mid-morning, a line of eight swallows sat on a telephone wire. Surely, the time for their departure has not already arrived? Winter clung on until May this year, surely autumn cannot have arrived three months later. The shortening of the days strengthens the resolve that one day Irish autumns will be exchanged for more agreeable days far south in France.
Ten years ago, we went to France for a week at the end of October. It was a time very different from the thirty degree temperatures of August, but it was still a delight.
Flying to Bordeaux from Dublin on an Air France flight was positively exotic compared to the usual journeys with Ryanair. A sporty Peugeot 307 hire car and we zipped along. The Dordogne farmhouse had a big, open fireplace and we stacked the logs up the chimney. It fell to minus six on the first night; the metallic blue of the car shrouded in a white frost. The days were clear blue and bright. We went to the castle in the nearby town and climbed to the top of its tower; the view was as good as it had been in summer, except we had it to ourselves; there was almost a sense of guilt standing and looking across the Perigordin countryside. The restaurant food was good (and cheaper); we sat one lunchtime and watched a white-maned writer with sheets of paper scattered across the table, he would write furiously with a biro and just as furiously cross out as much as he had written. The markets were busy with autumn produce and game; rabbits and pigeons hung along a butcher's stall; a paysanne sold us excellent blackberries. The final afternoon had the warmth of an autumn sun; time to be bold and test the swimming pool in which we had spent so many summer hours. One width of the pool was sufficient; the water temperature a ten degrees. As if there was an awareness that this was the last night; the Northern Lights appeared, great flashes of yellow and green across the night sky.
The Dordogne was not the same in late October as it had been in late August, but it was a good place to be. While wind and rain would have driven us indoors in Ireland, blue skies remained. On the only wet day we found diversion in the bastide town of Eymet. It was market day and two men were buying vegetables from a stall. Completing their purchase in French they turn and spoke to each other in English, with accents unmistakeably those of the Somerset in which I grew up; even they had come south.
The swallows know that long days and sunshine really are  the best choice.