Don't knock Michael O'Leary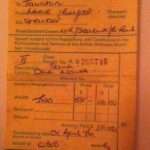 A two day course in North Wales requires flights to and from Liverpool. Leaving Dublin at four on a Monday afternoon and returning from Liverpool at eight on a Wednesday, with taxes and charges included, costs €33.98 – that's about £28 Sterling. Anyone who remembers flying thirty years ago will remember what life was like before Ryanair.
In August 1984, illness in the family demanded a sudden flight journey from Co Down to England. The only affordable option from Belfast was a flight to London Heathrow, the return fare was almost £200 Sterling, and that was the best fare offered in times when British Midland had been allowed to come onto the route to offer competition to the monopoly of British Airways.
Air travel was generally out of the question; boat and train was the only way for ordinary people. Getting to Larne Harbour for the eight o'clock sailing meant arriving at Stranraer station in time for the three hour journey to Carlisle. Perhaps the memory can colour one's recall, but it never seemed the most comfortable of trains. A change at Carlisle station allowed one to catch a train to Crewe, where a further change allowed a connection to Birmingham New Street. From Birmingham, there might be a direct train to Taunton, which would pull into the Somerset town at around six o'clock, ten hours after the sailing from Larne. The ticket in 1986 cost £58 – that's the equivalent of €69, more than double the cost of flying from Dublin to Liverpool today (allowing for inflation that figure is £122 – more than four times the cost of the Dublin-Liverpool air ticket).
For ordinary people, journeys  to Britain, or further afield, could not be frequent. Air travel on scheduled flights was beyond most people's pockets and, while train or bus travel might have been cheaper, it was not just the expense that constrained travel. The time entailed in journeys was a major factor for working people; at least a full day at each end of the visit: day trips and weekends to anywhere in Britain other than places on the Irish Sea coast were hardly feasible. Ryanair brought previously unimagined possibilities to those who knew exactly how much money there was in their wallet or purse, and exactly when they had to be at work.
In 2003, my grandmother's ninetieth birthday fell on a Sunday. Taking the early Communion service, I took the first half of the main morning service before a church member drove me to Dublin Airport. A Ryanair flight to Bristol and a family member collecting me from Bristol Airport meant being in Somerset for the party, four hours after leaving home. In 2006, a Ryanair return fare of €30 allowed me to go to England for the day to join my family for lunch on my father's 70th birthday. In the days before Michael O'Leary, attending such family occasions would simply not have been possible.
Of course, the flights are not luxurious, and, of course, stuff costs money, but would you really want to spend €200 extra for a comfortable seat, and a meal with a tin foil lid, on a thirty minute flight?